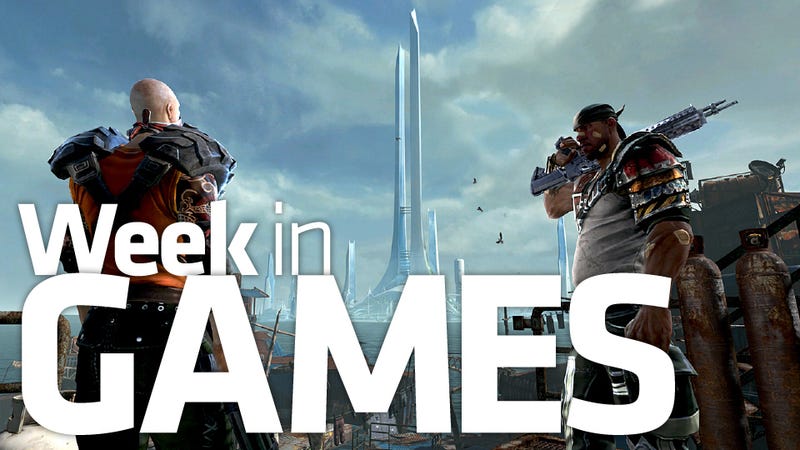 The long-awaited futuristic FPS Brink highlights this week of releases, promising quadrillions of unique characters - no really. If that hurts your brain, try MX vs. ATV, LEGO Pirates of the Caribbean or Virtua Tennis.

Tuesday
Brink (360, PC, PS3)-The free-running FPS pits two factions in a battle for control of The Ark, a once-utopic city floating above a flooded Earth.
MX vs. ATV Alive (360, PS3)-Throw some dirt with the fourth installment of THQ's off-road racing series.
LEGO Pirates of the Caribbean: The Video Game (360, PS3, DS, 3DS, Wii, PSP)-The title says it all: Traveller's Tales trains the LEGO guns on Jack Sparrow and company in this all-platforms release.

Also: Virtua Tennis 4 (PS3, Wii, 360); Dream Trigger 3D (3DS); The First Templar (360, PC); Yu-Gi-Oh! 5D's World Championship 2011: Over the Nexus (DS); Brothers in Arms: Complete Collection (PC); Fate: The Cursed King (PC); Assassin's Creed: Ultimate Collection (PC)


Wednesday
Looking Ahead
May 17: L.A. Noire, The Witcher 2: Assassin of Kings. May 24: DiRT 3. June 7: Red Faction: Armageddon, Infamous 2, Supremacy MMA. June 14: Alice: Madness Returns, Child of Eden, Duke Nukem Forever. June 21: F.E.A.R. 3. June 28: Call of Juarez: The Cartel. Super Street Fighter IV: Arcade Edition
What are you getting? What do you want? What are you looking forward to? Sound it off below, and at #twig.
Sources: Video Game Release Calendar; GameSpot; GameStop