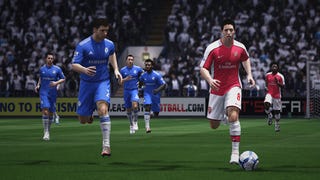 FIFA 11, Dead Rising 2 and Guitar Heroes: Warriors of Rock headline the final week of the fall quarter, with Borderlands' latest DLC and Lara Croft's arrival for PC and PS3 highlighting the downloadable titles.
Monday, Sept. 27
Farm Frenzy: Animal Country (DS)
Samurai Warriors 3 (Wii)
The Sims 3 Deluxe (PC)
Tuesday, Sept. 28
Dead Rising 2 (PC, PS3, 360) - Capcom unleashes another shambling horde of zombies upon us, but supplies plenty of kitchen-improvised weapons to manage them
FIFA 11 (DS, PC, PS2, PSP, PS3, Wii, 360) - The critically acclaimed series for the world's most popular team sport returns on every platform.
Guitar Hero: Warriors of Rock (PC, PS3, Wii, 360) - Activision's latest installment of its rhythm game includes a story-driven quest mode and rawkkin' boss battles.
Also: Atelier Rorona: The Alchemist of Arland (PS3); Borderlands: Claptrap's New Robot Revolution (PSN, XBLA); Deer Drive (DS); Front Mission Evolved (PC, PS3, 360); Get Fit With Mel B (PS3); Greg Hastings Paintball 2 (Wii); Haunted House (Wii); Lara Croft and the Guardian of Light (PC, PS3); MorphX (360); MySims SkyHeroes (DS, PS3, Wii, 360); Oops! Prank Party (Wii); Petz Fantasy: Moonlight Magic (DS); Quantum Theory (PS3, 360); Rapala Pro Bass Fishing 2010 (DS, PS2, PS3, PSP, Wii, 360); Scripps Spelling Bee (DS); Sid Meier's Pirates! (Wii); The Guild 2: Renaissance (PC); Tropico 3: Gold Edition (PC)
Wednesday, Sept. 29
Ferrari: The Race Experience (PSN)
Hydrophobia (XBLA)
Thursday, Sept. 30
Borderlands: Claptrap's New Robot Revolution (PC)
Final Fantasy XIV Online (PC)
Looking Ahead
Oct. 5: NBA 2K11, NBA Elite 11, NBA Jam. Oct. 12: Super Scribblenauts, Medal of Honor. Oct. 17: Kirby's Epic Yarn. Oct. 19: Fallout: New Vegas, Pro Evolution Soccer 2011, Vanquish, EA Sports MMA,
What are you getting? What do you want? What are you looking forward to? Sound it off below, and at #twig.