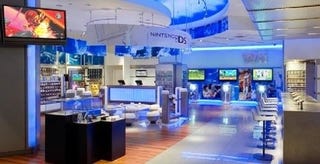 Don't forget: One of Nintendo's biggest game launches this year will be turning the Nintendo World Store into Mushroom Kingdom this weekend.
This Saturday, Nov. 14, Nintendo will be be bringing interactive gaming stations, costumed characters, trivia, prize giveaways and live tournaments to their New York store to celebrate the release of Wii must-have New Super Mario Bros. Wii. The event will also include a Super Mario Bros. museum filled with "memorabilia pulled from Nintendo's archives that chronicles Mario's history and cultural impact over nearly 25 years."
Are you going to be there? It runs from 3 to 7 p.m. We will, maybe even Totilo will be wearing bells.
What about New Super Mario Bros. Wii? Planning on picking it up? Is it time for Wii owners to start lining streets and counting days?
Let us know.