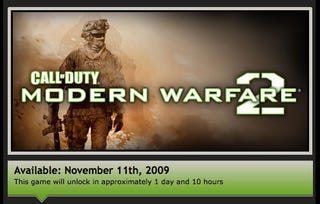 PC gamers choosing to get their Modern Warfare 2 fix through Steam were expecting to have to wait until November the 12th to fight the global virtual war on terror. As of right now, they'll wait a little less.
While the Steam release of the Call of Duty: Modern Warfare 2 is bizarrely being held back—the PC version shipped today via traditional retail means—it appears it will now be unlocked tomorrow, November 11th at 9 PM PST. Oddly, the game was momentarily pushed back until November 13th earlier today, which we're guessing was some sort of temporary scheduling snafu.
We've reached out to Activision and Valve reps about the delayed release and the new less-delayed release, but haven't received comment back.
Cross your fingers, PC gaming community. The digitally distributed version will be Oscar Mike soon.