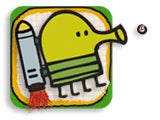 "Meet Doodle Jump, the iPhone version of crack - it's so addictive it should be illegal! I got dumped because I wouldn't put it down! And I just kept playing while she walked away... It's that good!" - User review
In Doodle Jump, you guide The Doodler—using some of the most subtle and accurate tilt controls in existence—on a springy journey up, up, up a sheet of graph paper, picking up jet packs, avoiding black holes, and blasting baddies with nose balls along the way.
Laugh with delight as you blow past other players' actual score markers scribbled in the margins. And be warned: this game is insanely addictive.
"The most addictive iPhone game yet?" - Gizmodo
"Required Reading. Dead simple and crazy addictive." - Touch Arcade
"Doodle Jump is a perfect micro-game, insanely addictive, and deliciously replayable. Go get it." - MacWorld.com
Get Doodle Jump now for only 99c on the iTunes App Store!