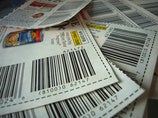 Hunting up weekend coupons is sometimes like looking for a snake. You don't know that you've really got one until you wade into the tall grass and step on it.
Let's take a gander at some of this weekend's deals:

Hardware
• Granted, this is a highly specific need, but the Cordless Mediaboard for PS3 is $57.99 at Amazon, which is $22 off the normal price and a much better solution - ergonomically speaking anyway - for those who surf, hang out in Home, or do anything requiring a lot of text entry on their console.
• I know you can trade rosters via EA Locker, but some services still do it the old memory-card-and-mail-way. Amazon has a deal on 360 memory units (512 MB) just in time for the release of NCAA 10. They're $25.99, a savings of $14.
• Since the point is to get the big peripheral bundle, I classify this as hardware. GameStop's offering $100 off to clear its stock of Guitar Hero: World Tour (all versions.) Wii, 360 and PS3 are $89.99; PS2 is $79.99. See GameStop's weekly ad. [GameStop]

Software
• Steam's weekend sale is GRID, which is 50 percent off, down to $14.99 [Steam]
• On digital distro GamersGate, pre-ordering Red Faction: Guerrilla gets you Red Faction 1 & 2 for free. Other values this weekend include EVE Online for 50 percent off ($7.49)
• Walmart adds new games to its rollback campaign every Tuesday; among the many listed right now is Metal Gear Solid 4, for $20 off ($29.82) [Walmart]
• Also at Amazon, Resident Evil 5 is $53.99 (360); the Call of Duty: World at War Collector's Edition for PC is $23 off ($47.34); Halo Wars is $18 off ($41.99) and F.E.A.R. 2: Project Origin (PS3) is $16 off ($43.99)
As always, smart gamers can find values any day of the week, so if you've run across a deal, share it with us in the comments.