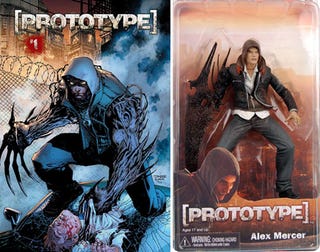 Plan on picking up Prototype? Perhaps you'd prefer to pre-order, as Activision is pimping the pre-order possibilities from three of its partners, each proffering its own collectible pre-purchase products.
Activision will be offering up three pre-order product possibilities at GameStop, Game Crazy and Amazon, giving serious fans of Radical Entertainment's upcoming open-world, super-powered action game something to covet and/or display.
Read on for the full lineup of goods, along with official descriptions from the Activision folks.
GameStop - Alex Mercer Collectible Action Figurine, 2-sided Critical Hints Location Map / Poster
Become the most deadly shape-shifter of all through the collection of critical hints sprawled across the vast expanse of New York City. Collecting and absorbing the information with in these critical hints will give players a tremendous tactical advantage.
GameCrazy - Limited Edition Hard Back Art Concept Book
This art book captures the details of Alex Mercer's character, shape-shifting abilities and weapons. Additionally it illustrates other characters, enemies, locations and infections that make up the PROTOTYPE game. The game background and conceptual art with in this book will impress all PROTOTYPE fans and gaming enthusiasts.
Amazon - Comic Book
Take a deeper dive into the world of Prototype with an exclusive bonus comic from Wild Storm. Experience the action from a different perspective in this new series as you follows two NYC homicide detectives as they try to hunt down the game's protagonist, Alex Mercer.