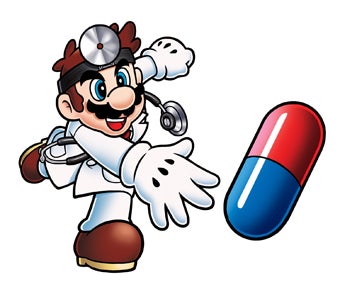 Call the doctor, Mario-whoa-o. This week in the Nintendo Download we get a tiny dose of Dr. Mario; a tiny taste of Final Fantasy; and a heaping helping of Winder Boy.
Dr. Mario makes his tiny triumphant return this week in the DSiWare title Dr. Mario Express (500 points), the downloadable version of the classic color-matching puzzle game that teaches children that pills are fun to play with. It's probably one of the biggest DSiWare titles to date, which find so sad that not even Master of Illusion Express: Deep Psyche (200 points) can make me feel better.
Things are slightly brighter on the WiiWare side of things, where Crystal Defenders R1 from Square Enix (800 points) brings a little bit of Final Fantasy-flavored tower defense to the Nintendo Wii, in what is essentially a console port of an iPhone game. Hurray.
Fortunately the Virtual Console offers us something solid to sink our teeth into this week with Wonder Boy III: Monster Lair for the Sega Genesis (900 points). It's got swords, jumping, and two-player co-op that forces your friend to play as a girl - everything that good little games are made of.
Check out the full descriptions below to see if anything tickles your fancy this week.
Nintendo DSiWare
Dr. Mario Express (Nintendo, 1 player, Rated E for Everyone, 500 Nintendo DSi Points™): Mario once again dons his stethoscope to battle the forces of illness in this downloadable version of the classic puzzle game. Use vitamins to eliminate viruses in Classic mode, or play against a computer opponent in Vs. CPU mode. Make an appointment with Dr. Mario today.
Master of Illusion Express: Deep Psyche (Nintendo, 1 player, Rated E for Everyone, 200 Nintendo DSi Points): Master of Illusion Express titles offer mind-bending magic tricks pulled from the popular Nintendo DS™ game. Learn the illusions, practice up and amaze your friends. Master of Illusion Express: Deep Psyche asks a series of pointed questions and reveals a startling truth.
WiiWare
CRYSTAL DEFENDERS R1 (SQUARE ENIX, 1 player, Rated E for Everyone – Mild Fantasy Violence, 800 Wii Points™): In CRYSTAL DEFENDERS R1, you must deploy various units such as Soldiers and Black Mages to stop wave after wave of encroaching monsters from escaping the area with your party's crystals. There are many different types of units to choose from, some specializing in powerful short-range attacks, some wielding far-reaching magicks, and still others equipped with bows that enable them to bring down aerial foes. Deploy units in strategic locations to take full advantage of their traits. Each time an enemy breaches your defenses and reaches a map's exit, your party will lose crystals. When all your crystals are gone, the game is over. CRYSTAL DEFENDERS R1 comes complete with a plethora of exciting stages, each varying in layout and difficulty. Can you defend them all without losing a single crystal?
Virtual Console
Wonder Boy III: Monster Lair (Sega Genesis, 1-2 players, Rated E for Everyone – Mild Cartoon Violence, 900 Wii Points): The once-quiet town of Xenobia is under attack from fierce and gruesome monsters. As Leo, it's up to you to save Xenobia from danger as you navigate through a series of worlds in a race against time. Use your sword and jumping abilities to battle foes. Watch for power-ups that will increase your health and add to the amount of time you have to complete your missions. Go it alone or play co-op with a friend who can take the role of Priscilla. Do you have what it takes to save the world?