Have an Xbox? Like free money? Today Best Buy will sell you a $25 Xbox Gift Card for $20, and then throw in an additional $5 digital card for free. 33% discounts on digital credit like this are basically unheard of. Buy it. [Best Buy]
---
We're feeling pretty good about The Witcher III: Wild Hunt being amazing, and even more certain about this edition selling out because well, look at it.
The Witcher III: Wild Hunt Collector's Edition PS4 | One | PC
G/O Media may get a commission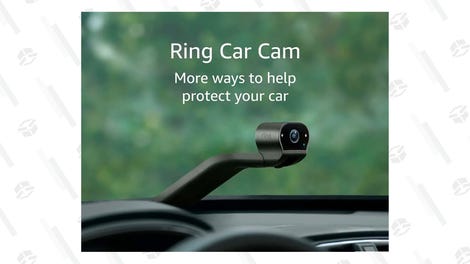 The regular version of the game is also available for pre-order.
PC gamers who don't want the Collector's Edition and aren't worried about a Steam key can pre-order from GOG to get a discount, with deeper discounts for owners of the first two games.
---
The Best External Hard Drives For Your Xbox One
---
The Wii U Pro Controller is $10 off today in both Black and White.
---
If that deal we recently posted on 5 Hitchcock movies didn't cut it, how about 15? [Hitchcock Masterpiece Collection, $107]
---
This knife folds down to the size of a credit card, and you can get one for only $1 shipped. Just be sure to ditch it before you go to an airport. [Credit Card Knife, $1]
Update: Out of stock on eBay, but Amazon has it for $1 more.
---
Pegboard is, in my opinion, one of the most underutilized organization solutions there is. Sure you could use it to hold tools, but there's nothing stopping you from turning it into a cable management solution , shelving , or even a kitchen organizer . This particular version is made of durable galvanized steel, and is only $25 per set today. [Galvanized Steel Pegboard Set, $25]
---
It's a simple thing, but this Pyrex 2-cup measuring cup is a must-own for any kitchen, and it's under $4 today. [Pyrex Measuring Cup, $4]
The Corsair Flash Voyager Go will work on both your computer and your Android device via a bonus MicroUSB connector, and the 32GB model is marked back down to its lowest price ever right now. [Corsair Flash Voyage Go 32GB, $22]
---
Whether you're using it as a TV, or a super-dense computer monitor, $390 for a 4K Seiki display is insane. [Seiki 39" 4K TV, $390]
---
Games
PC
Playstation 4
Playstation 3
Xbox 360
3DS
Apps
iOS
Android
Movies and Television
Music
Home Theater
TVs and Projectors
Media Players
Sound and Accessories
Peripherals
Displays
Input
PC Parts
Home
Kitchen
Inventory
---
See all the upcoming releases here .
June 6
Tomodachi Life | 3DS
June 9
June 10
Enemy Front | PS3/360/PC
True Detective | Blu-ray
June 17
EA Sports UFC | PS4/One
The LEGO Movie: Everything Is Awesome Edition | Blu-ray | Also available in standard edition
House of Cards Season Two | Blu-ray
June 24
Transformers: Rise of the Dark Spark | PS4/PS3/One/360/Wii U/3DS/PC
Plants vs. Zombies: Garden Warfare | PC
BlazBlue: Chrono Phantasma | Vita
Star Trek: The Next Generation Season Six | Blu-ray
Orphan Black Season Two | Blu-ray
June 30
Divinity: Original Sin | PC/Mac
---
July
---
July 1
Child of Light | Vita
July 8
One Piece Unlimited World Red | PS3/Vita/3DS | Pre-order for Day One Edition
July 29
Hyperdimension Neptunia Re;Birth1 | Vita
Twin Peaks: The Entire Mystery | Blu-ray
Herzog: The Collection limited edition | Blu-ray
---
August
---
August 5
Sacred 3 | PS3/360
Akiba's Trip: Undead and Undressed | PS3/Vita
August 12
Disgaea 4: A Promise Revisited | Vita
Hohokum | PS4/PS3/Vita
August 19
Diablo III: Ultimate Evil Edition | PS4/One/PS3/360
August 22
Tales of Xillia 2 | PS3
August 26
The Walking Dead Season 4 Limited Edition | Blu-ray | Also available in standard edition
---
September
---
September 2
Danganronpa 2: Goodbye Despair | Vita
September 9
Destiny | PS4/PS3/One/360 | Pre-order for Beta access
---
October
---
October 7
Dragon Age: Inquisition | PS4/One/PS3/360/PC
Dragon Age: Inquisition Deluxe | PS4/One/PS3/360/PC
Alien: Isolation | PS4/PS3/One/360/PC
Middle-earth: Shadow of Mordor | PS4/PS3/One/360/PC
DriveClub | PS4
October 12
Fantasia: Music Evolved | One/360
October 14
Borderlands: The Pre-Sequel | PS3/360/PC/Mac
October 21
The Evil Within | PS4/PS3/One/360/PC
---
November
---
November 18
Far Cry 4 | PS4/One/360/PS3/PC
---
December
---
December 2
---
This post is brought to you by the Commerce Team, a dedicated group of deal hunters and product enthusiasts. We operate independently of Editorial to bring you the best bargains every day, share our favorite products with you, and ask you about yours. When you buy something we recommend, we may also get a small share of the sale. We welcome your questions and want your feedback.