Released last month in Japan, the official iOS Pokédex application is now available in North America and beyond, giving Pokémon fans around the globe access to the ultimate pocket monster compendium. Just don't expect a kindly tree-named professor to hand it over for free.
The official Pokédex app starts fans out with the critters from the Unova Pokédex (National Pokédex No. 494–647) for $1.99. That's 153 pocket monsters rendered in animated 3D, each searchable by name, number, move, ability or type. Each entry features a wealth of information, from the abilities the Pokémon can learn to where they can be hunted down in Pokémon Black and White 1 and 2. It's the sort of reference I wish I had when I first started playing the latest entry in the series, and one that will definitely come in handy while wiping up the stragglers.
Once the $1.99 app is installed, players can purchase the Kanto Pokédex (National Pokédex No. 001–151), Johto Pokédex (National Pokédex No. 152–251), Hoenn Pokédex (National Pokédex No. 252–386), and Sinnoh Pokédex (National Pokédex No. 387–493) for $5.99 apiece. It's an odd pricing structure. The initial download gives players 153 entries, and then adding fewer (only 106 in Sinnoh) costs three times as much. That seems a bit silly.
G/O Media may get a commission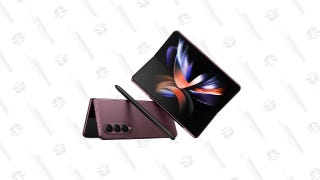 Save Up to $300
Galaxy Z Fold4
But this is new territory for The Pokémon Company International, so a little silliness is expected. There's never been an official Pokédex on a non-Nintendo gaming platform before—just a slew of unofficial apps on iTunes that the company is actively seeking to get removed.
"We love the enthusiasm," The Pokémon Company director of marketing J.C. Smith told me during an interview late last week, "but we have to protect our brand."
That's understandable, though some might still see replacing a dozen fan-made $.99 apps with an official $26 package a bit of a dick move. There's always the wild frontier of Android, where there are no plans for an official Pokédex app at this time and no one could find it in Google Play anyway.
And before we all start getting excited, this release is not paving the way for full Pokémon games being released on the iPhone or iPad. The Pokémon Company is an independent Nintendo subsidiary that handles the marketing of the Pokémon brand, and the official Pokédex app is a form of marketing. The games themselves are exclusive to Nintendo platforms.
I am overjoyed. I've been talking about how great an official smartphone-based Pokédex would be since the iTunes App Store launched, and here it is. Mission accomplished. What next? Hey, wouldn't an official Digi-device app be cool?
The Official Pokédex App — $1.99 [iTunes]
Pokédex for iOS Info Page [The Pokémon Company]