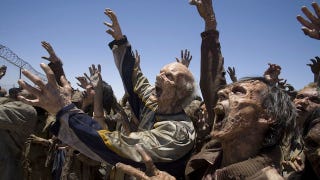 The Associated Press is reporting injuries to 16 actors on the Toronto set of Resident Evil: Retribution after a platform collapsed. Paramedics found it difficult to assess the actors' injuries because of the zombie costumes and make-up they were wearing. The victims suffered leg, arm and back injuries but none were said to be life-threatening.
The accident—which happened around 8 a.m. Pacific Time—apparently happened as a platform the actors were standing moved moved just as they were going to another platform. Milla Jojovich plays lead character Alice in the action/horror series, but wasn't on set when the mishap occurred. The incident's being investigated by Canada's Ministry of Labor.
16 zombie actors injured on 'Resident Evil' set
---
You can contact Evan Narcisse, the author of this post, at evan@kotaku.com. You can also find him on Twitter, Facebook, and lurking around our #tips page.