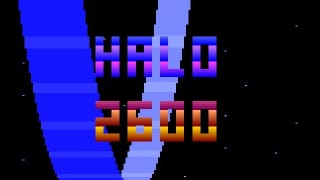 The Smithsonian American Art Museum yesterday acquired two games for its permanent collection. One of them seems right at home—Flower, the independent title almost universally praised by critics for its artistic flourishes. The other is, basically, Halo if it was made for the Atari 2600.
Halo 2600 by Ed Fries (a former Microsoft games publishing executive) was a game originally launched in 2010 (it had a flash game presence, but was coded as an Atari 2600 ROM), and is Fries' vision of the seminal Xbox shooter if it had been built for the primitive gaming consoles of the early 1980s.
I've written about it twice, taking it to be a joke or a novelty "de-make." But some people are very serious about Halo 2600. Serious enough it's gotten a cartridge release. And, serious enough that it's in the Smithsonian. So, I stand corrected. But seriously, Halo on the Atari VCS/2600?