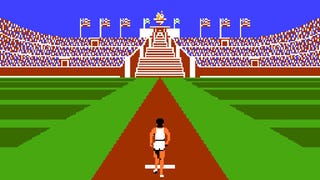 There is currently a factory sealed copy of extremely rare (there are only two copies in near-mint condition on Earth) NES game Stadium Events listed on eBay. It's reached a bidding high of $100,000, and it still has six days to go. Unfortunately, there is likely foul play involved.
The woman who purchased from a Goodwill store one of the rarest collectible video games in the world—valued by some at $15,000—says her heart "raced the whole time" as she found it, bought it, and walked out of the store.
It's the archetypal jackpot story of flea markets, pawn shops and antiques roadshows. Someone pays a few dollars for a long-forgotten box at a swap meet and then discovers they have a five-figure rarity on their hands. That describes a North Carolina woman today, who purchased one of the rarest video games ever sold…
Previously (on Pawn Stars), a Halo cosplayer sought $2,000 for his custom-built Spartan armor, and walked out with nothing. A little snicker-inducing, but the seller kept his hubris to a minimum and seemed to show more understanding than disappointment, so I felt a little sorry for the guy. This, however, is pure…
It's well settled that Stadium Events is, if not the rarest video game on the collectible market, is certainly the rarest of any retail release. A year after a sealed copy of the NES game set a record for the most ever paid for a single game, another verified, factory-sealed copy is seeking to dethrone it.
Top shelf streetwear label The Hundreds is tapping the NES collector curiosity Stadium Events—which fetches a pretty penny on eBay these days—for their spring line of tees, a classy and understated reference from the Los Angeles based brand.
Remember the mom who sold an NES for $13,000 because it happened to include the ultra-rare Stadium Events? Well, a factory-sealed copy is now on eBay, and with eight days to go bidding is above $16,000.
A mom in North Carolina listed an NES and five carts on eBay last week for $9.99. Final winning bid: $13,105. One of the games in the lot happened to be the ultra-rare Stadium Events, in its original box.