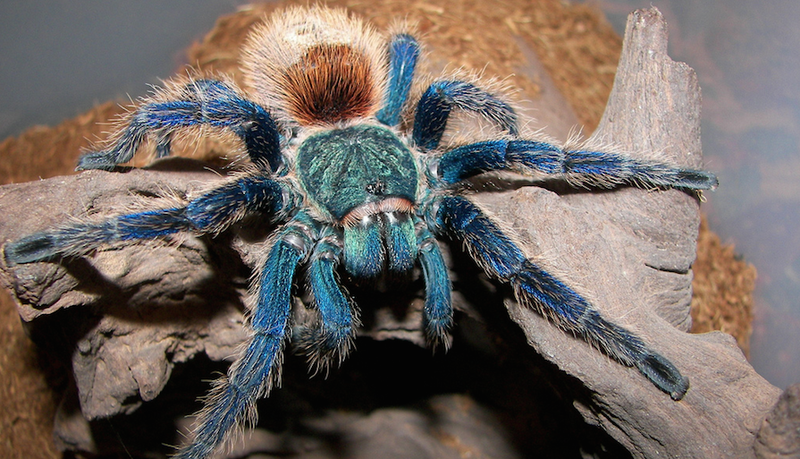 A very particular shade of blue hair has evolved independently on eight separate occasions and in at least three different ways in tarantulas, a new study finds. And scientists are having a hell of a time figuring out why.
Some kid's show messages are universal: stranger danger, just say no, don't climb into a tumble dryer, etc. Others are more specific to location. Enter Peppa Pig and the controversial-in-Australia message that "spiders are not to be feared."
Bound by Flame is a new PlayStation exclusive action/RPG hitting multiple platforms later this year. Without any kind of sense as to how it plays, it looks pretty middle-of-the-road for a game coming out in 2014. But that voiceover—sounding enthralled, huckster-ish and befuddled—will take you back straight to the…
The Metro: Last Light Developer DLC pack features a fully-stocked shooting range, an AI battle arena, and a museum filled with the game's characters and creatures. There's also a solo mission filled with spiders, so screw that. The pack will release September 17 for PC, Xbox 360 and PlayStation 3. You can read about…
Cyberpunk RPG-brawler thingamajig Mars: War Logs is now out on Xbox 360 via the Live Arcade. Its PS3 version is expected to arrive on August 7 in Europe, and later that month in the US.
We've seen a lot of the gameplay mechanics behind Mars: War Logs, Spiders' third-person sci-fi RPG. This time, Spiders CEO Jehanne Rousseau tells us about the game's story and universe, and describes the ways our choices will shape the way the story unfolds. Mars: War Logs is coming "very soon" to PS3, Xbox 360 and PC.
In today's nearly completely random episode of Speak Up on Kotaku, commenter Althir believes that this friendly little fellow evokes the same sort of terror as would a flying spider. You folks should write more about games, lest the next one be a giant spider close-up.