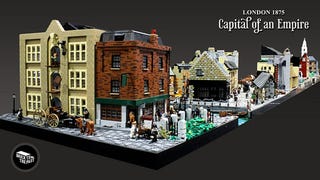 Doing LEGO builds for themes that never had official sets must be the hardest. But a UK-based group called Bricks to the Past's large-scale LEGO display of 19th century London is amazing without acknowledging that.
An unsolved video game murder is just a terrible thing. Using everything I've ever learnt from years of watching CSI, I took on Sherlock Holmes: Crimes & Punishments. There was no way Sherlock Holmes, a fictional man of the past could conceivably outsmart me. But would I be able to outsmart crime itself?
London's super sleuth, Sherlock Holmes, will be making an appearance in the upcoming new Ace Attorney game, Ace Attorney: The Adventures of Ryunosuke Naruhodou.
I sort of regret talking up this new footage from Sherlock season 3 yesterday, because with all said and done today there's not really that much to it. Still, a little Cumberbatch is better than no Cumberbatch at all, right?
This is not something you joke about, Focus Home Interactive. Once you invoke Creepy Watson, there is no going back.
It's rather suspicious how two games I decided to write about today wound up new entries on this morning's iPad charts. Perhaps I should have Constable Cheshire Jr. and the Mad Hatter look into the matter once they're done unraveling the mystery of Mirrors of Albion.
Now this is a blast from the past. I remember playing through the first volume of Sherlock Holmes: Consulting Detective ages ago. It was a full motion video adventure game, and my memories are very fond. The games were more stodgy, goofy Sherlock than cool, sexy Sherlock, but that didn't make the mystery-solving any…
While games like L.A. Noire and Batman: Arkham Asylum put on a good detective show, are we really detecting anything? Commenter Soleyu describes what a true detective game should be like in today's elementary edition of Speak Up on Kotaku.
Sherlock, the BBC's modern-day Sherlock Holmes reimagining, is a heck of an enjoyable TV show. In addition to the solid writing, strong acting, and un-cheesy modernizing of Holmes, I'm struck by the many ways that Sherlock uses the visual language of video games to place viewers in the mind of the master deducer…