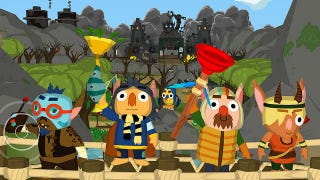 Okabu knows it's not easy being green, but they sure do make it look appealing.
Last March, I got a look at ngmoco's upcoming project lineup, which included announcements of more Rolando 2 and a quick look at an iPhone shooter called Eliminate.
We reviewed the first Rolando back in January. January 2009. Now, it's only July, and the sequel is upon us. That's a pretty swift turnaround, handheld platform or not.
Leading iPhone game publisher Ngmoco has no plans to release exclusive games for the newly announced iPhone 3GS, instead offering a more creative way to take advantage of the new model's increased graphical power.

Despite being a blast, people knocked the first Rolando for looking too much like LocoRoco. Wonder if those same people will knock the sequel for looking too much like LittleBigPlanet?