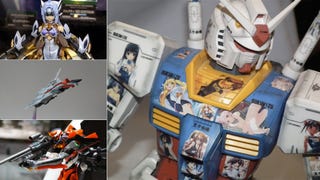 The real question isn't how many figures and toys are at the bi-annual Wonder Festival, but rather, can you process all the stunning plastic chaos? Well, can you?
Dubbed "Wonfes", the Wonder Festival is a Japanese model figurine event that brings together professional model makers, figure companies, and collectors in…
Japan's King of Games - our second favourite outfitter of gaming shirts - will this week be adding some more good stuff to their line of Irem clothing. And where there's Irem, there's R-Type, and there's Spelunker.
The Bydo empire must be destroyed. Again. The Australian Office of Film and Literature Classification has rated a new title in the series, named R-Type Dimensions, for an upcoming Xbox Live Arcade release. The surprise announcement, dug up by GamerBytes, shows that Microsoft will publish, but that developer Tozai will…