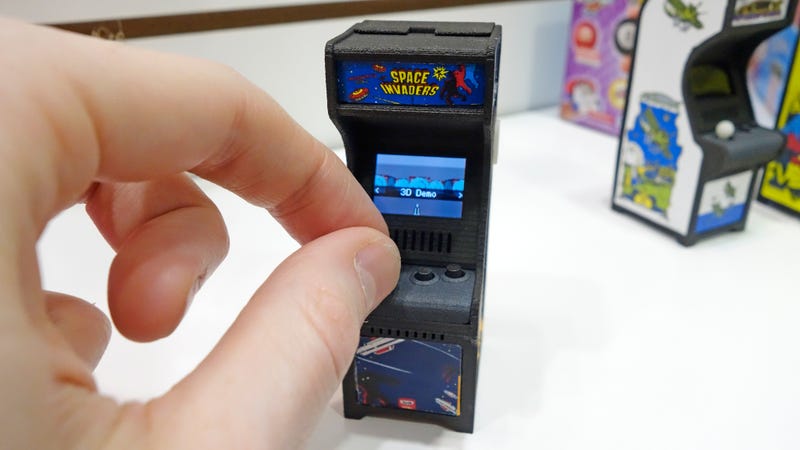 The thrill of realizing you can play the classic arcade games you grew up with on your smartphone is immediately gone once you actually try to guide Pac-Man around a maze using touchscreen controls. It's so frustrating that you might consider carrying around one of these incredibly tiny arcade machines in your…
This has been a very good year for video games, but it has been an exceptional year for books about video games—surely the best ever. I can't tell you who will win the prestigious BAGOTY award for 2015, but Cara Ellison's Embed With Games, Simon Parkin's Death by Video Game, and Michael W. Clune's Gamelife are all…
There's a World Video Game Hall of Fame now, and the first class of inductees was announced yesterday. Pong, Pac-Man, Super Mario Bros., Tetris, Doom, and World of Warcraft are to video games what Ty Cobb, Walter Johnson, Christy Mathewson, Babe Ruth, and Honus Wagner are to baseball.

There seems to be no end to the ways gamers propose to their brides. A North Carolina man successfully popped the Q with using a hacked Ms. Pac-Man ROM and a modded cocktail table cabinet.
Nike isn't shy about flirting with video game references for its Nike Skateboarding line of sneakers, having already released Dunks "inspired by" 720° and Skate or Die. And speaking of not shy... Ms. Pac-Man sneakers!
The 10th is actually the aluminum or tin anniversary. But rather than give each other cookie cutters or Reynolds wrap, reader mlazy and his wife got inked. With his n' hers Pac-Tattoos. (He gives a shout-out to his artist, Skin Deep Ink, and we'll oblige). Yes that's hers on the left and his on the right. (Arm hair:…
The always droll Games Radar has come up with a list of the "mediocre" women of gaming - if by mediocre, you mean "somewhat sensibly proportioned and no gratuitous jiggle." In other words, "girlfriend material," a "compliment" that has gotten millions of insensitive, fumble-tongued 20-something males backhanded by…