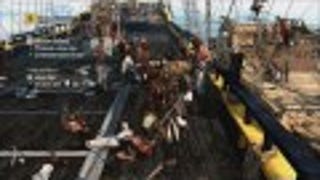 Assassin's Creed games revel in meticulous recreations of historical eras. So let's see actual historians discuss the times two newer AC entries were set in. In this video, YouTube series History Respawned takes a look at Liberation and Freedom Cry as reflections of black life in the 18th Century slavery system.
Slavery in the Transatlantic of the 1700s was a complex, interconnected network of financial systems, social engineering and psychological repercussions. The Assassin's Creed video games that have dealt with it head-on made good use of that subject matter but also stumbled in particularly clumsy ways. "Collecting…
Starting this month, PS3 and PS4 owners won't need to own the full version of Assassin's Creed IV to play its excellent Freedom Cry DLC. Ubisoft's just announced that they're releasing the Adéwalé-focused add-on as its own standalone release on February 18th. Make fun of the Black History Month timing all you want,…
Boarding a slave ship and liberating its human cargo is probably the most satisfying thing you can do in the new Freedom Cry DLC for Assassin's Creed IV. It's also one of the toughest. Take a look at how this naval battle to free slaves almost ended in tears.
The newest chapter of the Assassin's Creed series gives me some of the things I've always wanted in a video game: a heroic fantasy that lets me control a warrior fighting against slavery. Part of it happens in Haiti, where my parents were born. Characters talk in Antillean Kreyol, the mosaic tongue made of French…
SOTA Toys is giving Street Fighter fans a chance to snag a gorgeous, one-of-a-kind Blanka statue, while providing much-needed relief to the earthquake-ravaged country of Haiti.
Today only, 100 percent of the proceeds from purchases in PopCap's store - they make Bejeweled and Peggle - will go toward Haiti quake relief. This post is our official open thread on ways to contribute to the recovery.
Games on Facebook have joined the relief cause for Haiti, with Zynga's FarmVille, Mafia Wars and Zynga Poker offering "limited edition social goods" for sale, the proceeds of which will entirely benefit funds serving earthquake victims in that nation.