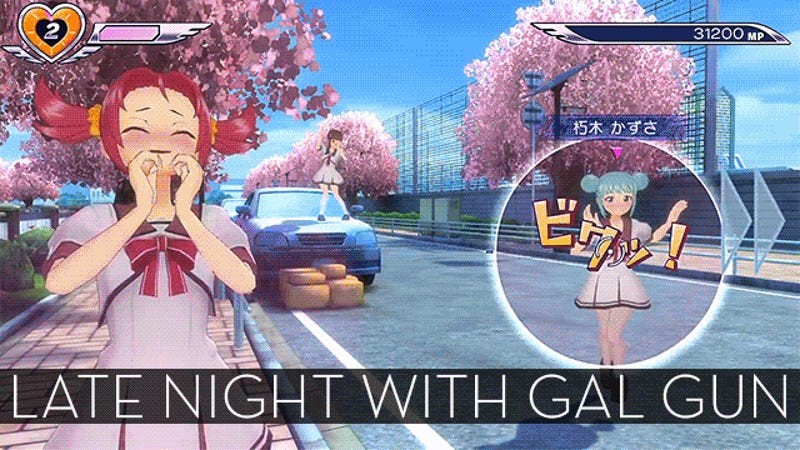 At TGS 2010, just inside the media entrance, there sat a van owned by Inti Creates (a game studio formed by ex-Capcom staff). As I came upon it my first day, I saw Kotaku's own Brian Ashcraft standing beside a crowd of Japanese photographers who were fighting for position in front of the van. I asked Brian what…
Gal Gun, the upskirt-action-packed shooter released in Japan for Xbox 360 earlier this year, is also coming to PS3 this winter—with PlayStation Move support. Expect a new character, a new "Doki Doki Carnival" mode and improved graphics. [Andriasang]
Japanese Xbox 360 game Gal Gun is less of a schoolgirl ogle-fest than before, thanks to a new update—dubbed the *ahem* "Protect Panties Patch"—that puts new limits on just how lecherous the game and its players can be.
Do you know Gal Gun—or if you prefer, Gal☆Gun—the Japanese shooter for the Xbox 360 that's all about shooting high school girls with a "pheromone shot" and is mostly wall to wall upskirt shots? Then you probably know about the back and forth "pantsu" drama that threatened to keep the Japan-only game panty shot free.
After checking out creepy cute shooter Gal☆Gun at last year's Tokyo Game Show, Kotaku could safely confirm that the game was wall-to-wall underpants. Then, there were concerns those underpants were killed off. Now?
Gal☆Gun is one crazy game. It's wall-to-wall underpants. And when there aren't underpants, there are tentacles. The game — certainly "suitable" for players under 18 — even has a panic screen. No wonder Microsoft wants some changes.
Developer Alchemist's creepy schoolgirl shoot 'em up Gal Gun is not the type of thing you'd be proud to play. Thankfully, the developer of the Xbox 360 game knows this, letting players keep their fetishistic arcade action a secret.
I've played Gal Gun, the Xbox 360 on-rails shooter that pits you, the lonely high school student Tenzou, against a horde of school girl admirers on a quest to find true love. Cute? Kind of. Creepy? Yep. Shallow? You bet!