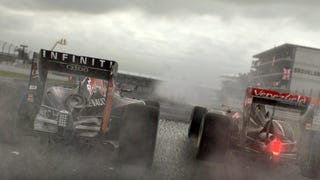 Jann Mardenborough has just been plucked by Red Bull — the biggest F1 team — to race for Arden International in GP3, which is the most direct line to racing in Formula One. Why's that news? Because this guy learned how to race by playing Gran Turismo.
This past week, I haven't felt as helpless or as vexed behind the wheel since I was 15 years old and trying to divine the magical balance between clutch and gas pedal that actually sent my mother's BMW 325e forward along our farm's gravel road. Each time the vehicle shuddered and stalled out, I was left to contemplate…
It wouldn't be Formula 1 without some kind of constant friction between racers, team owners and organizers, and this year's kerfuffle involves steering wheels that force drivers to push more buttons than a 747 pilot having a seizure.
iRacing is an extremely realistic racing simulator. Its top driver won $10,000, despite never driving over 100 mph in real life. Top Gear put him in an open-wheel racer to see if digital skills translate to real racing prowess.
On the left, there is footage of on-board camera footage of the Korean Grand Prix. On the right?
Picture this. You're playing a Formula 1 game on the TV in your bedroom, while in the living room, another TV is set to a real, actual Formula 1 race. And you're racing the same cars, in the same positions, at the same speed, as they're going on the TV. Impossible? Probably, but that's not going to stop iOpener from…
Despite the fact the last few Sony F1 games were fairly forgettable, some people are worried now that Codemasters hold the Formula 1 license. Worried they'll make a forgettable game. Worried that, being Codemasters - the team behind Grid and Dirt - their F1 game will be some kind of arcade racer. Well it won't!…