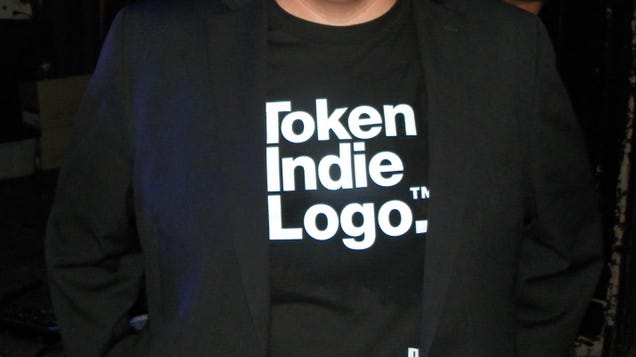 Last night, Sony held an indie showcase event at Neumo's, a Seattle music venue that epitomized underground cool. PlayStation exec Adam Boyes took the stage to re-affirm the company's commitment to working with indies and third-party partners and announced a handful of new games. Whiles most of the games looked intriguing, it was Boyes' t-shirt that might have been the sassiest thing in the spotlight last night.
In case you can't make it out, the words on the shirt say "Token Indie Logo." Boyes wore it under a blazer, mimicking the look that Microsoft's Phil Spencer sported during the Xbox E3 presentation this year. When asked about it, Boyes answered "I don't know what you're talking about" with a smirk.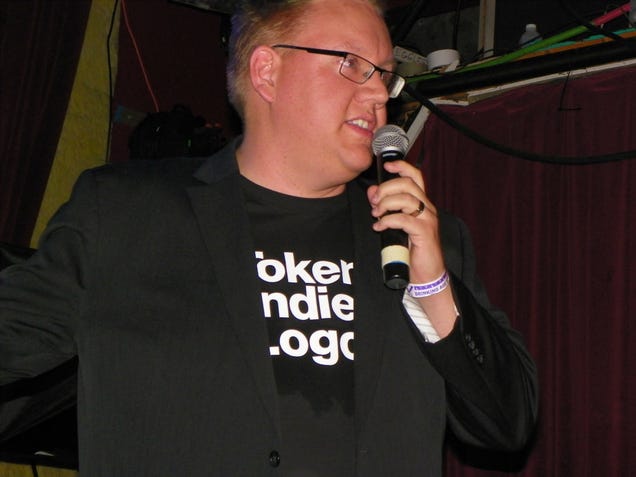 "Look, we're having a lot of fun right now," he added. "We love indies. This isn't a new thing for us. All you have to do is look at the games we've supported in the past and what we're continuing to do now to see that."
UPDATE: Microsoft's Spencer, who was the target of Boyes' joke, took it in stride:
Funny @amboyes and I'm getting one of those shirts. http://t.co/vaSWRPppG5

— Phil Spencer (@XboxP3) August 31, 2013
Boyes responds:
@XboxP3 I can arrange that! Congrats on choosing @iocat to run ID. He's an amazing guy.

— Adam Boyes (@amboyes) August 31, 2013
And then here's Microsoft's Mike Ybarra, partner studio manager for Microsoft Studios, the internal Xbox game development studio system run by Spencer with a sharper reply:
@XboxP3 I'm going to get one that says "AAA, remember it?"

— Mike Ybarra (@XboxQwik) August 31, 2013
ORIGINAL STORY CONTINUES...
The roster of games that Boyes talked up as coming to Playstation platforms last night definitely supports his remarks, too: