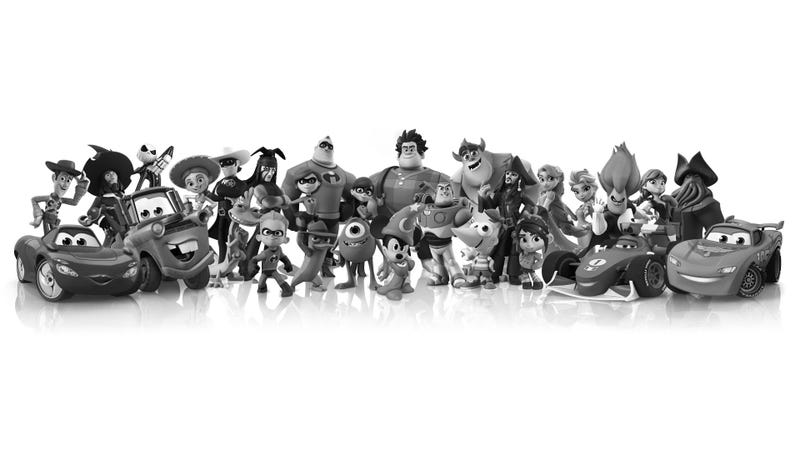 Last month, the servers for Disney Infinity—once aiming to be the biggest thing in video games and toys—were quietly shut down. It's fitting for the game's sad demise that few people even bothered to notice.

We knew it was coming, of course: we were told in July 2016, not long after Infinity's cancellation, that the game's slow death march would begin with the stripping of the PC and mobile versions from app stores at the time, and continue until March 2017 when one of the cornerstones of the project—its online services—were closed down.
This has now taken place. Where once half the point of the game was building new levels and worlds for others to play in, and downloading those made by fans from across the world, Disney Infinity is now strictly a local experience, each copy's playsets limited to what the user is able to cobble together.
Coupled with the lack of new titles or toys, and the fire sale of figures that took place throughout the back end of 2016, this effectively marks the end for Disney Infinity. Yes, you can technically still buy a copy, but the heart of the game is gone.
And I'll miss it. As a grown man I never had much time for it, finding the first edition of the game to be a terrible platformer with a UI wholly unsuited for the children the game was aimed at.
But as a Dad, whose kids got old enough to really get into the game just in time to see it die, I'm sad to see it go. While it was never able to recover from its reliance on text menus (Nintendo knows what's up there), the second and third editions of Infinity made great strides in making the game fun to play.

The Star Wars games in particular ended up being both the first and last examples of how entire cinematic worlds could best be captured within the confines of Infinity's design, as they were able to remain true to the game's "do anything" philosophy while still feeling like they were an actual Star Wars experience, not just a reskinned Infinity level.
After they'd wrung every last drop of fun from the official Infinity playsets, though, my kids spent most of their time in the game's Toybox mode, downloading dozens of the weird and wonderful stages fans from across the world had made and shared. My daughter also loved constructing her own intricate takes on Frozen's Arendelle, while my son just...built stuff. Cities, platforming challenges, whatever he felt like bolting together.
I'm normally pretty strict on my kid's gaming time, but with Infinity, I was often content to let them play for hours because, unlike most other video game experiences available to them, it was never really about the game. They never got frustrated at losing, or dying, or not being able to progress past a certain challenge. There were never thrown controllers, or shouts of despair.