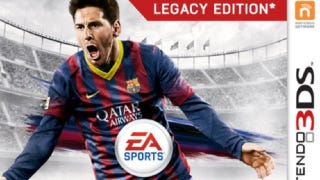 This is ... remarkable. Well, that's my view of it anyway. Nintendo published a news release this morning that described FIFA 14 on the 3DS in just about the worst terms you can apply to a new sports video game.
"FIFA 14 Legacy Edition delivers unmatched authenticity that reflects the current football season with updated kits and rosters but no updates to gameplay or game modes," Nintendo said in its listing of titles available on the European eShop this week.
In other words, it's the despised "roster update," despite still listing for a full-price £39.99. This "Legacy Edition" will also be published for PS Vita (as well as PSP and PS2). The game's executive producer danced around the lack of a meaningful update on the Vita when questioned about it by Eurogamer back in August.
Nintendo's platforms have typically been the stepchildren of sports publishing, a role the company can't possibly like, especially with FIFA 14 not releasing in any form—"Legacy Edition" or otherwise—on Wii U.
Last year, FIFA 13 on the Wii was in every meaningful sense a renamed re-release of FIFA 12, a cynical product that didn't do anything helpful for either EA Sports' or Nintendo's brands.