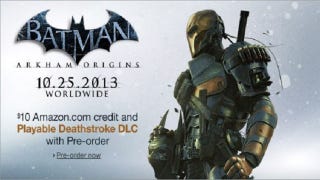 Batman's latest adventure, Arkham Origins, releases in just a few hours, which means that your time to take advantage of the various pre-order discounts available for the game is winding down quickly.
Pre-ordering from Amazon regardless of your platform nets you $10 credit along with playable Deathstroke DLC, which is a great deal. It's even better for PC gamers as the digital version of the game includes a free copy of Mortal Kombat Arcade along with the discount. Note: The Wii U version does not include the DLC as it does not exist for that platform.
If you don't care about Mortal Kombat Arcade and would rather save another $2.50, grab the PC digital version from Green Man Gaming for even less, or if you're new to the series, get all three games for a ridiculous discount. Both these options also include the Deathstroke DLC. Use code GMG25-GRV7N-YY833 for both of these deals.
Lastly, for PS3 and 360 owners, Toys R Us is doing a tomorrow only promotion where buying the game in store nets you a $20 Toys R Us gift card. Note that the gift card expires Feb. 1, 2014. You'll need this coupon if you want to go that route.
Here's today's regular deals roundup.