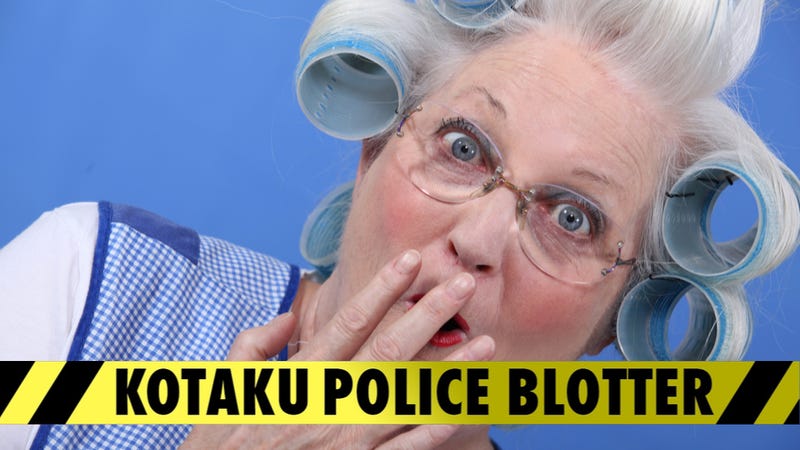 Snitches Do Cross-Stitches
MAYFIELD HEIGHTS, Ohio—Police thwarted the shoplifting of a PlayStation 3 here thanks to a timely tip from the perp's grandmother. Cops said grandma phoned the local Best Buy on July 5 to warn them she'd overheard her grandson saying he intended to steal something from the store. The boy followed through only part way, smuggling the PS3 into a restroom but leaving it on the floor there. He was taken back to his grandma's house. This isn't the first time, either: on July 3, cops caught him trying to sell a stolen backpack leaf blower and a chainsaw outside an auto parts store. He was taken back to his grandmother that evening, too. [Mayfield-Hillcrest Patch]
An Appreciation of the Classics
WARSAW, Ind.—More than $10,000 worth of merchandise was burgled from an independent game store here—all of it "vintage video games"—reports WNDU-TV. Authorities say Nathan Dimmock, 27, broke into Video World three different times over the past several weeks to cart off the classics. He was finally caught on his fourth try, on Thursday, and is facing felony counts of burglary and theft. [WNDU-TV]
A Pineapple Gave Him Away
SHICKSHINNY, Pa.—A homeowner here discovered his Wii, checkbook, some pill bottles—and a pineapple—missing after helping his sons' friends jump start their car. Ultimately, the fruit led to their arrest. Later that day, cops pulled over the car, a yellow Volkswagen Beetle, and noticed a pineapple mounted to the roof antenna. A search of the car turned up the pill bottles, checkbook, and Wii—and the top of a pineapple. James Piacente, 35, is in the Luzerne County slammer on $25,000 bond. [Citizens Voice of Luzerne County, Pa.]
The Getaway Vehicle was a Wheelchair
IPSWICH, Australia—A man pleaded guilty to swiping two PlayStation 3 games and $200 (Australian) worth of clothes after cops found the items stuffed into the seat of is wheelchair. Nathan Wayne Strathie, 30, had part of his foot amputated on account of blood poisoning, requiring his use of the wheelchair. He visited a a local store and, as he was leaving, set off alarms from a scanner by the door. Police noticed a slit cut in the seat of his wheelchair and, inside, found the stolen games and clothing. Security cam footage later showed he and his friends placing the games in the seat. He was fined $300 and ordered to pay $199.99 in restitution. [The Queensland Times]
How'd They Fit Under His Shirt?
EUNICE, La.—A Walmart employee is facing felony theft charges after police say he stole not one but two PlayStation 3 consoles, smuggling them out of his store under his shirt. Jonathan Peoples, 24, allegedly told police that he did steal the two PS3s. They were discovered in the search of the vehicle of a friend, who had no knowledge of the theft. [The Eunice (La.) News]
Lots of strange things happen in the pages of your local newspaper or on the 6 o'clock news. If you see something, say something. To me, that is. I'd like to write it up. Remember: You need not reveal your identity.
To contact the author of this post, write to owen@kotaku.com or find him on Twitter @owengood.
Image by auremar/Shutterstock.