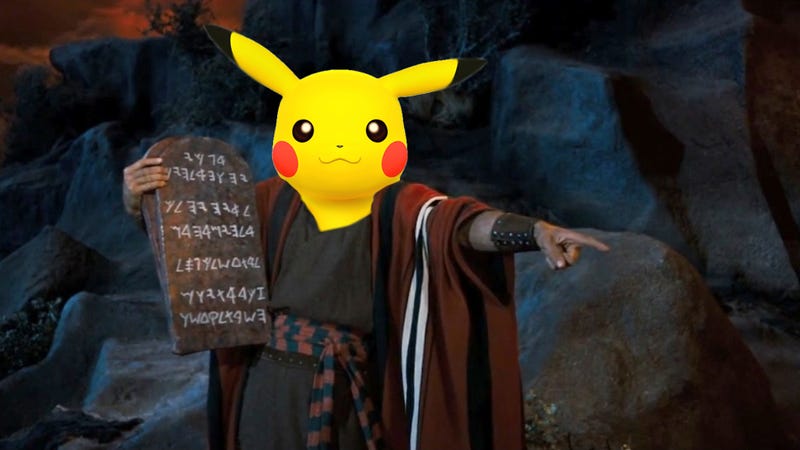 I've grown up — rather fondly, I might add — with Pokémon. Over the years the several different hundreds of pocket monsters have become my dear friends. Simply settling into a new game (like I've recently done with Black) is a comfort to me. In a tumultuous, changing world, I find solace in the fact that while the games have metamorphosed over the years, whittling down a health bar or throwing a Poké Ball haven't changed. When so many things I can't control refuse to stay the same, these smaller precious memories become infinitely more dear to me.
Of course, this phenomenon hasn't been around forever. When I was in elementary school, the craze hadn't yet been fully realized. I was the weird pigtailed nerdling recruiting "trainers" to "battle" via vending machine capsules (Poké Balls) and the piece of paper inside illustrated with a stick-figure Pokémon. We'd shout out attacks and carry anything we could find in our backpacks that even slightly resembled the illustrious red and white globes. Several "trainers" defected to Team Rocket and would hassle us at recess. I decided to call myself Jessie and my buddy Jamie got the honor of being James. Later in the year I researched Robert Goddard as part of an overhead projector assignment and the two of us somehow managed to earn an A though we recited the Rocket motto during the presentation. Life was good.
The years advanced and Pokémon grew with me. My network of fellow trainers expanded into a global organization. I didn't need to rely on Tamagotchi candy keychains or capsules to role-play. The advent of the Pokémon games simply felt like a natural extension of the non-video games I played throughout school. Though I had considered myself a gamer long before the introduction of Pokémon Red and Blue, the day those games were announced was no less monumental.