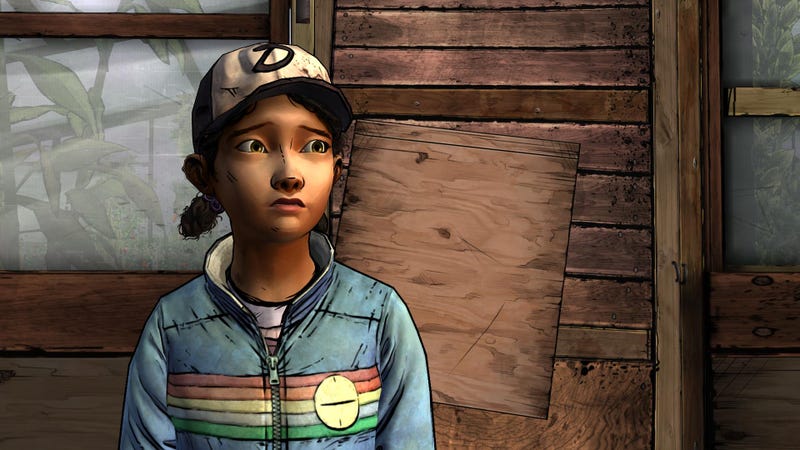 When I finished episode three of the second season of The Walking Dead game, I thought, "Well, that sure was an episode of The Walking Dead."
Mild zombie- and jacket-related spoilers follow.
I think that, like our young protagonist Clementine, I've gotten too hardened, too young. I've seen so many people die, witnessed so many betrayals and unexpected zombie attacks that I've grown inured to the whole thing. That seems a likely explanation for why I was mostly unmoved and a little bored by the new episode, which is out this week for pretty much every gaming platform except the PS4 and Xbox One.
But whatever, zombies and death and murder, blah blah, the important thing is that CLEMENTINE GOT A SUPER AWESOME NEW JACKET:
I wasn't sold on it at first but eventually, I mean, look at it:
IT HAS A RAINBOW
So: Good jacket, middling episode. I think the (actual) reason I didn't really like episode 3 was that it relied way too heavily on under-explained character motivation, rushed pacing, contrived scenarios, and genre clichés. There is literally a scene where the main bad guy sits Clementine down and says, in as many words, "We're not so different, you and I." I'm going to have to start keeping a scorecard of games that trot that one out.
The episode, titled "In Harm's Way," was certainly no match for the terrific third episode of season one, and while it moved us one step closer toward… somewhere, I can't help but worry that the series' narrative has lost its way.