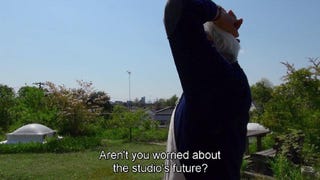 Because, really, why worry? Famed animator and Studio Ghibli co-founder Hayao Miyazaki seems convinced of its demise.
Ghibli is best known for classic anime like My Neighbor Totoro and Princess Mononoke.
Below, you can see stills from the Studio Ghibli documentary The Kingdom of Dreams and Madness, which was originally released in Japan last year. These stills are from Tumblr site Nicholas Kole:
Last month, there was a rumor that Studio Ghibli was going to stop making feature films.