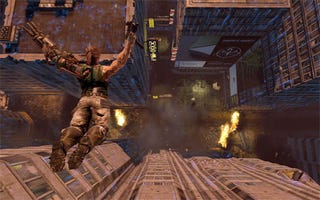 After not one, but two Western-developed sales blunders, Capcom is planning to stick with its home turf.
Capcom's president, Haruhiro Tsujimoto, tells the Financial Times that the company is giving up on developing new franchise titles in the West after the catastrophic sales of two of its attempts, Bionic Commando and Dark Void. Predicted to sell in the millions, neither did better than 750,000 copies. Now, Capcom wants out.
We already knew back in December how upset Capcom was about Bionic Commando's less than average debut. However, Dark Void may have been the straw that broke the camel's back.