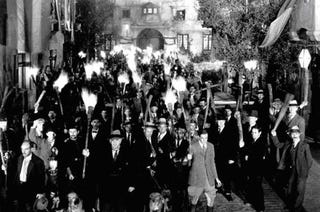 Looking back on 2009's many kerfuffles and foofaraws, it may not have been the most contentious year the gaming industry has ever seen. But it certainly was among the most entertaining.
Kicking off Kotaku's review of 2009 are the headlines that generated the most heat, if not light, from the preceding year. The conflicts fracture along familiar faultlines - legal claims; violence and in-game content; marketing and etc. And by no means is this an exhaustive list. There were plenty of other decisions, indecisions, gaffes, gambits and shrewd calls made by the games industry - a dynamic capitalist enterprise, of course - and we invite you to continue the discussion of them in our comments.
Knuckleheaded
EA's press promo for Godfather II backfires when the brass knuckles it sends (including a pair to Crecente) turn out to be illegal in many of the states to which they are shipped (including Colorado). It's also illegal to ship them in California, where EA is based. EA asks for all of the knuckles back. Godfather II then backfires when the game sucks.