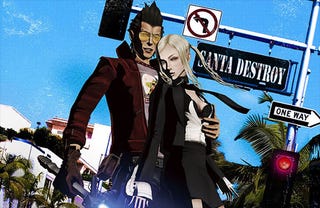 Grasshopper Manufacture may finally be making the leap to the Xbox 360 and PlayStation 3 with a new No More Heroes game, rumored to have been revealed in the latest issue of Famitsu magazine [Update - yup, it's in there]
And that's about all we know at this stage, other than a supposed title, No More Heroes: Heroes Paradise.
But we can't say that No More Heroes making the high-definition transition from the Wii to the PS3/360 is much of a surprise. Grasshopper lead Goichi Suda has previously expressed his interest in bringing Travis Touchdown and crew to other consoles.