Zelda series producer Eiji Aonuma credits fan speculation for the creation of a female Link in the recent Legend of Zelda: Hyrule Warriors 3DS game, but he clarified to Kotaku here at E3 that the Link in the new Wii U Zelda who first showed up in a 2014 trailer was always planned to be a guy.
Aonuma said he had been vague about the specifics of the new game's Link when he was giving interviews about that trailer in 2014. He thinks that helped lead some Zelda fans to think that the somewhat androgynous Link shown in the trailer might be a girl. Aonuma said his lack of specifics on the character two years ago hadn't been intended to stoke fan theories. "My intention was to say this isn't done and there may be changes coming to that. I in no way had intention of leading people into believing Link was female."
But why not have a female Link in this big new game? "You know there's the idea of the Triforce in the Zelda games we make," he told Kotaku. "The Triforce is made up of Princess Zelda, Ganon and Link. Princess Zelda is obviously female. If we made Link a female we thought that would mess with the balance of the Triforce. That's why we decided not to do it."
Asked about this topic by a reporter from GameSpot, Aonuma said that Nintendo had considered the idea of Princess Zelda taking the lead role in a Zelda game to satisfy fan desire for a female lead character but "...if we have princess Zelda as the main character who fights, then what is Link going to do? Taking into account that, and also the idea of the balance of the Triforce, we thought it best to come back to this [original] makeup."
G/O Media may get a commission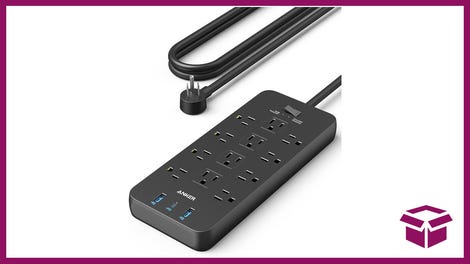 28% Off
Anker Power Strip Surge Protector
The gender roles Aonuma is talking about sound fixed and will no doubt lead to a new round of discussion about what Nintendo could or couldn't do with its cast of characters and also what works in its game designs. If the male-female dynamic is so important, why not have a Prince Zelda, perhaps. This is also a company that just published a game with a female Link in it, after all. That character, called Linkle, debuted in the 3DS version of Hyrule Warriors, which came out in the U.S. this year. The game's 2014 Wii U version let you swap between many characters from Zelda lore but didn't have a female Link.
Aonuma said that the theorizing about a female Link for the Wii U Zelda helped inspired Hyrule Warriors producer Yousuke Hayashi to explore that idea for the 3DS version of the game. "There was talk about the female Link and at the time we thought oh yeah that might be fun. In Mr. Hayashi's mind that idea cemented."