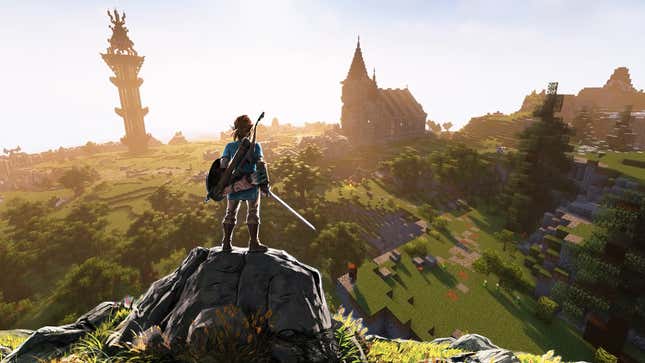 Minecraft is a video game that offers plenty of opportunity for creative output, one whose versatility appeals to players with all kinds of interests and ambitions. Some folks get high and try to make a perfect circle out of square blocks, while others create functioning phones and other impressive devices. Now, a new project may be one of the most impressive creative undertakings in the sandbox game to date: one YouTuber's quest to build all of Legend of Zelda: Breath of the Wild in Minecraft.
Stylish Cel-Shaded Skating Shooter Rollerdrome Looks To Be Pure Joy On Wheels
Last year, a Minecraft YouTuber named Grazzyy posted the first video in a series of uploads documenting his journey to recreate iconic landmarks from Legend of Zelda: Breath of the Wild in Minecraft. In his first video, aptly titled "I'm Building ALL OF Breath of the Wild in Minecraft (#1)," Grazzyy laid the groundwork for his ambitious project by building the map of Hyrule he'll be using as his foundation via Minecraft's world painter.

"Over the many years that I've been playing Minecraft, I've almost exclusively played in survival mode, never really building much in creative [mode]," Grazzyy said at the start of his first BotW Minecraft video. "But, for quite a while now, I've been getting the itch to test my skills and do some sort of mega build in creative mode with tools like world edit. So why not build the entire Breath of the Wild map? You heard me right."

As Grazzyy notes in his first video, this isn't the first time Breath of the Wild has been recreated in Minecraft. Two years ago, a YouTuber named Alask made BotW's map in Minecraft. However, the key difference between Alask and Grazzyy's Minecraft world build is that Grazzyy is building "everything" in BotW. The aforementioned "everything" includes landmarks like Hyrule Castle, the Divine Beasts, every incidental ruin littered about Hyrule, and the guardians patrolling them. Speaking with Kotaku via email, Grazzyy said the most challenging aspect of his project so far was recreating Zora's Domain.

"On its own, it took about a month and roughly 50 hours of playtime to complete," Grazzyy said. "However, apart from that one build, the most challenging task that I've repeatedly faced has been simply getting started on a new location. After completing a huge part of the map and releasing a video about it, it's so challenging to get back to work and move on to the next location."

Grazzyy takes multiple weeks off after uploading a new BotW Minecraft video to give himself a moment of reprieve before building a new locale. However, It's during those times when the full scale of the project becomes truly overwhelming for Grazzyy. Nevertheless, he told Kotaku that he doesn't plan on throwing in the towel because he'd regret not finishing what he started.

To date, Grazzyy has finished recreating places like (deep breath) the Temple of Time, the Shrine of Resurrection, the Bridge of Hylia, the Faron Region, Zora's Domain, the Great Plateau, Kakariko, Hateno Village, Lake Floria, and Lurelin Village, to name just a few locations in BotW.

According to Minecraft's in-game statistics, Grazzyy has spent 19.25 days (roughly 465 hours) building his BotW Minecraft world. This, of course, does not take into account the time he has put into editing and rendering footage documenting his progress on his YouTube channel, which he estimates to be somewhere between 550-600 hours total.

"Considering that I have not yet completed 50% of the map, I think that my in-game time will breach 1000 hours by the end of the project, and with editing and everything else thrown in, maybe even 1200+," Grazzyy said. "My hope is to finish the map by the end of 2023, but with each passing day that seems less likely; the end of the project might have to wait until early 2024."

When can you play in Grazzyy's BotW Minecraft world?
The comment sections for Grazzyy's YouTube and TikTok videos documenting his process are filled with pleas for him to share his builds with the public. However, in Grazzyy's first video, he admitted to being on the fence about making his BotW Minecraft world build downloadable for the rest of us who lack the time and ingenuity to make our own. However, should he decide to share with the rest of the class, Grazzyy said it will not be until his project is "fully complete."

"I plan on making Tears of the Kingdom too! Considering that the sequel seems to mostly be adding on to Breath of the Wild's map, I think It would be silly not to since I'll already have the entire BOTW map anyways!" Grazzyy said. "But that will have to wait until the BOTW map is finished, of course…"
Updated: 5/6/2023, 11:40 a.m. ET: This story has been updated to incorporate comments from the creator.