ACBF_SEASON_PASS_PR_Embargo_Oct8_9am
A while back, Ubisoft said that Assassin's Creed IV would have an add-on campaign focused on Adewale, the former slave who serves as first mate on Edward Kenway's the Jackdaw. The trailer above offers the first glimpse at the Freedom's Cry expansion and, as you can see, it's going to be markedly different than the main game.
These Great Fortnite Creative Maps Show Us What's Possible
Freedom's Cry—which players can get as part of a $20 season pass—is being written by Jill Murray, one of the writers on last year's Assassin's Creed 3: Liberation. Murray took some time to answer questions about Freedom's Cry, including the one that's probably foremost on the mind of thrifty players.
Kotaku: Why isn't this on the disc?
Jill Murray: I'll tell you this much: Black Flag is a huge game. If the DLC had been developed at the same time, I wouldn't have had the chance to write it. The new DLC features a new hero, new animations and weapons and a new environment and, by the time Assassin's Creed IV Black Flag launches, development on the DLC will continue.
G/O Media may get a commission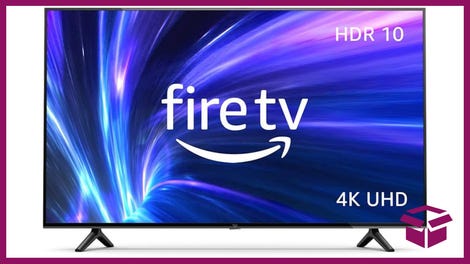 42% Off
Amazon Fire TV 50" 4K Smart TV
Kotaku: With this announcement, the Assassin's Creed franchise revisits on the era of chattel slavery. How do you see the Freedom's Cry DLC in connection to Assassin's Creed 3: Liberation game and the upcoming ACIV chapters focused on Aveline?
Murray: This DLC takes place in the 1730s, about fifteen years after Black Flag. We get to see Saint-Domingue as it was in the generation before Liberation's elder cohort— Agate, Baptiste, and Jeanne— were enslaved there. We see the Maroon Resistance before they became involved in it, and take an open-eyed look at the conditions they would inherit and rebel against in a very different way than Adewale chooses. Adewale's heroism is informed by a life at sea, as a pirate, and then as an Assassin. Agate, Baptiste, and Jeanne are children there in Liberation, and their reaction is very different.
As for Aveline, she was removed from slavery by one generation and the degree of privilege granted by her social status. In Liberation, slavery was something she chose to engage with, when she could have pretended to ignore it. The events of Liberation give her good reason to question her ties to the Assassins, but never her commitment to the people she helped. The events of the upcoming DLC introduce her to a new ally, who plays a role in helping her resolve her ambitions and her doubts.
Kotaku: What's the thinking behind focusing on Adewale as a separate branch of stories?
Murray: Adewale's firm conviction, sagacity, power, and under-explored perspective make his point of view interesting. By following him on this journey, we get to see new parts of the world, meet new people, and examine facets of history that Edward's perspective couldn't show us— and that Adewale himself couldn't have explored in Edward's company.
Kotaku: Is he an Assassin? Or just a different sort of hyper-capable warrior on a mission?
Murray: Adewale is a hyper-capable Assassin who listens to his heart and conscience. "Everything is permitted…" takes on new colours when contrasted against the harsh conditions of slavery under the French Code Noir in 18th century Saint-Domingue.
Official details about Freedom's Cry are below:
The Assassin's Creed IV Black Flag downloadable content features additional single player missions, including 'Freedom Cry', a nine mission self-contained story featuring Edward Kenway's first mate Adewale.

A Season Pass will be available for purchase at the launch of the game on PlayStation 4, Playstation 3, Xbox 360 and PC and will include the below downloadable game content at a 20 percent discount:

- Freedom Cry: Born a slave, Adewale found freedom as a pirate aboard the Jackdaw as captain Edward Kenway's second-in-command. Fifteen years later, Adewale has become a trained assassin and finds himself shipwrecked in Saint-Domingue with no weapon nor crew, starting a new adventure of his own.

- The Exclusive Kraken Ship Pack – Only available to Season Pass owners, this pack includes personalization elements for the Jackdaw

- New ways to personalize the player's pirate experience – Additional single player missions, weapons, skins, and collectibles

- More Multiplayer Mayhem – Unlock new characters for an even more expansive multiplayer experience

Assassin's Creed IV Black Flag Season Pass grants a 20 percent savings off the regular price of each individual downloadable pack to be released before March 2014, and is available on PlayStation 4, Playstation 3, Xbox 360 and PC.