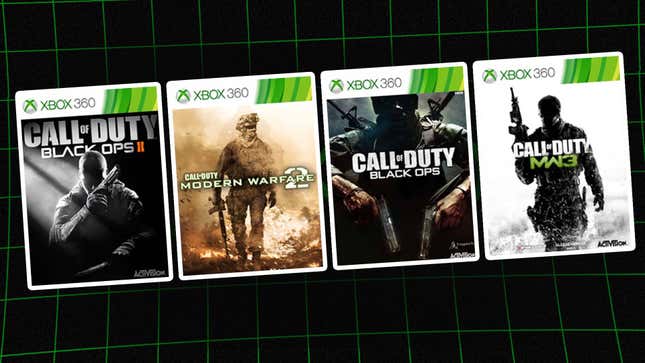 Quick, without looking it up (or I guess remembering the headline) what's currently the bestselling game on Xbox? Elden Ring? Maybe a new Call of Duty? Perhaps that popular Diablo IV? Nope! It's Call of Duty: Black Ops 2 for Xbox 360. And the rest of the top 10 is filled with other classic CoD games as players flock back to the popular shooters in the wake of Microsoft ironing out some long-standing server issues.
Why The Hot New Redfall Gameplay Trailer Left Us Feeling Cold
On the weekend of July 15, with no heads-up or announcement, Microsoft and/or Activision fixed the matchmaking issues that had plagued numerous old Call of Duty shooters on Xbox 360, Xbox One, and even Series X/S. At the same time, a vast majority of the classic online first-person shooters were put on sale, going for only $15 a pop. The end result of all this? A shitload of players returned to these aging Call of Duty titles, making them some of the most popular games on Xbox. And now, as the sale continues and word of the fixed matchmaking spreads, a bunch of classic CoD titles have flooded the bestselling games list on Xbox.com.
On July 20, the official Xbox website showed that five of the top 10 bestselling video games on the Xbox store were Xbox 360-era Call of Duty entries. As previously mentioned, 2012's Black Ops 2 is currently number one.
Here's the full list as of July 20 at 11 a.m. EST, with Xbox 360-era games in bold.
Call of Duty: Black Ops 2 (2012)
Call of Duty: Modern Warfare 2 (2009)
Call of Duty: Black Ops (2010)
Call of Duty: Modern Warfare 3 (2011)
NBA 2K23
Call of Duty: Modern Warfare 2 (2022)
Call of Duty: Black Ops III (2015)
Diablo IV
Call of Duty: World At War (2008)
Red Dead Redemption II
As you can see, half of this list is comprised of Xbox 360 Call of Duty games, with fan favorites like Black Ops and Modern Warfare 2 at the very top. And yes, it's very funny to see two different Modern Warfare 2s on this list. Time is a flat circle and all that.

Why are people playing old Call of Duty games?
So what's going on here? Beyond the fact that the games are all on sale and Xbox players are returning after server issues were sorted out, I think it's also a testament to how good this era of Call of Duty was, and how well these games still hold up. While I know modern Call of Duty has a vast audience, to me, the series was at its best from around 2007 to around 2014. The games were fast, the action was snappy, and the amount of bullshit you had to deal with was pretty low.

I also think a lot of players are yearning for shooters from the era before everything was a live-service fiasco. These classic CoDs didn't have seasonal battle passes, in-game crossover events, or huge cosmetic stores. They mostly sold maps and some gun skins. It was a simpler time, and I'd argue a better time for the franchise and its players. For my money, few things in online gaming are as fun as driving an explosive RC car around Nuketown or killing some hidden sniper with a tomahawk during a Black Ops match.

In fact, now that so many people are playing these games again, I might grab one or two of these classic titles and see if I can have some fun myself before hackers and cheaters ruin everything again.

.