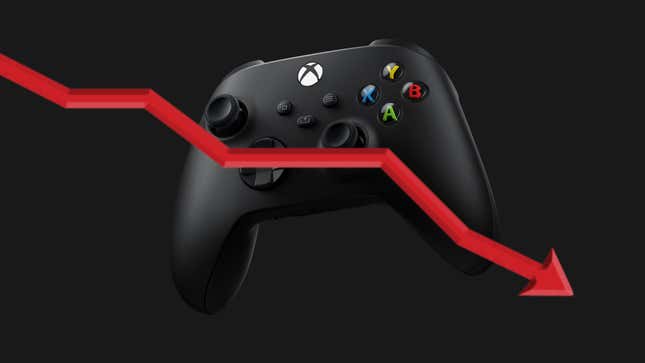 Gaming still isn't all about you. New data released by PwC shows that "traditional" games make up only 26.7 percent of the revenue earned by the U.S. games industry, the vast majority of 2022's $54.1 billion coming from social or casual games. Esports, meanwhile, contributed just 0.8%. Added together, that total also shows just a 2.4 percent year-on-year increase, the slowest growth in five years. Which isn't great news.

If You Want To Get The Most Out of Mario Strikers: Battle League Make Some Friends
As reported by GamesBeat, PwC's (PricewaterhouseCoopers) report shows that "social and casual gaming" brings in an astonishing $37.1 billion a year, making up 69 percent (dude) of the global gaming market. While that sector only grew by 3.6 percent last year, following Covid-driven spikes of the likes of 9.3 percent in 2021, it still makes up the vast bulk of revenue. And PwC forecasts that it will only increase its dominance, reaching 74 percent by 2027.
The majority of that revenue comes from in-app games advertising, making an eye-watering $19.3 billion in 2022. Free-to-play casual games are where the money's at.
Traditional gaming—the likes Kotaku is primarily about—provided just over a quarter of the industry's revenue, at 26.7 percent, so clearly is not to be sniffed at! $15 billion is lots of money! However, on its own our area of gaming actually shrank in 2022, losing 0.8 percent, as the market corrects for the Covid spike. PwC expects growth recovery within traditional gaming to be much slower—a concerning 1.9 percent—so predicts that the percentage it will represent will drop to 22.8 by 2027.
Still, traditional gaming alone still beat U.S. movie box office revenue by almost three times. At $5.99 billion, movies are now dwarfed by gaming. The U.S. film industry is currently valued at $25.8 billion, making it worth less than half as much as the games industry. (Although always take these numbers with a heap of salt: you're comparing apples and oranges, with far too many vague details.)
If you're interested, consoles brought in $9.5 billion in 2022, compared to the PC's 5.5 billion. But then, there are three big consoles, so hey little PC! You're doing great! Apart from that PC showed negative growth in all areas, and 85 percent of that revenue came from microtransactions, and oh fuck everything.
Meanwhile, esports prove to be a very minor player, overall. Half a billion bucks is not nothing, clearly, but at less than one percent of total gaming revenue, it's perhaps punching above its weight.
All this slow or negative growth explains the swathes of lay-offs we've been seeing at vast corporations, whose goal is not profitability, but impossible ever-expanding growth to feed their insatiable shareholders. Capitalism yay! And PwC's predictions, while suggesting numbers go up, are not enormously encouraging. Expect a lot more upsetting consolidation and closure, is my guess. And don't be one bit surprised when yet more popular franchises opt for where the money lives: microtransactions and free-to-play. Bleurgh.