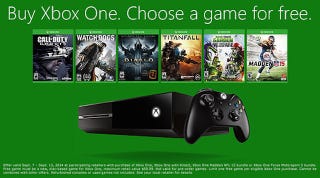 Starting September 7th and running through the 13th you'll be able to pick up an Xbox One with a free game of your choice at participating retailers including Destiny. That's not really that notable on it's own, but combined with the purchase of the Madden 15 Bundle or Forza 5 Bundle it becomes a great deal. We'll remind you again when the promo goes live.
---
We've posted some great Harry Potter Blu-ray Collections in the past, but today you can grab a bundle of the entire film series on iTunes for just 50 bucks. [Harry Potter]
We brought back Harry Potter in the style of Scott Pilgrim to celebrate.
---
This might not have been a great summer for movies ( Boyhood and Guardians of the Galaxy excluded), but upcoming blockbusters likes of Interstellar and Mockingjay - Part 1 should be pretty enticing. If you have any films on your wishlist that will be out before the end of November, this deal's for you.
$7 gets you a voucher for any Fandango ticket priced up to $14, including those that are marked as "No Passes." This might not be a great deal for everyone, but if you live in a major city, your local theater is almost guaranteed to charge more for a ticket. [Amazon Local]
---
Get these deals and more, and earlier on Deals.Kinja. Connect with us on Twitter and Facebook to never miss a deal, check out our Gaming and Movie/TV release calendars to plan your upcoming free time, and join us for Kinja Co-Op to vote on the best products. Got a deal we missed? Post it in the comments with a link and we'll share right to our Deals homepage.
---
Want to see what all the fuss about gaming mice is without breaking the bank? This one is $12 today, with great reviews.
2400 DPI Wired USB Optical Gaming Mouse with 7 Programmable Buttons, Omron Micro Switches ($12) | Amazon | Use code M5555OFF
---
Speaking of 4K, Best Buy has the exceptionally well-reviewed LG 55" 4K 3D Smart TV for $1700, an all-time low. [LG 55" 4K Smart 3D TV, $1700]
---
If you want to future-proof your home theater, this 7.2 channel receiver from Denon has AirPlay, 4K support, Pandora, Spotify, Audyssey Gold, and more. Amazon has consistently sold it for $900 until now. [Denon AVR-X3000 7.2-Channel 4K Receiver, $598]
---
This recently-announced wireless hard drive would be great for photographers and travelers , and you can score a $20 discount on the 1TB model, or $30 on the 2TB, by preordering today. [Preorder WD My Passport Wireless, $180-$220]
---
Cards Against Humanity's Fifth Expansion is here, and since the first four are still regularly sold out, we expect this to sell out almost immediately.
---
We're down to the final five, so go vote! What's the best SSD for the money ?
---
We recently wrote about some great triggers and grips for your controllers and portables, and got some great comments as a result. Check it out if you missed it.
---
With few exceptions, 20% is about as good as iTunes gift card deals get. [ $50 iTunes gift Card, $40]
---
Stainless steel straws will change your life. [ MIU COLOR Endurance bent Stainless Steel Drink Straw, Set of 4, $6 with code RZ5XGVB6]
---
Gaming
---
Peripherals
PC
PlayStation 4
Xbox One
PlayStation 3
Xbox 360
Toys
---
Media
---
Movies & TV
Books & Magazines
Apps
---
Tech
---
Headphones
PC Parts
---
This post is brought to you by the Commerce Team. We work together with you to find the best products and the best deals on them. We operate independently of Editorial, and we want your feedback.