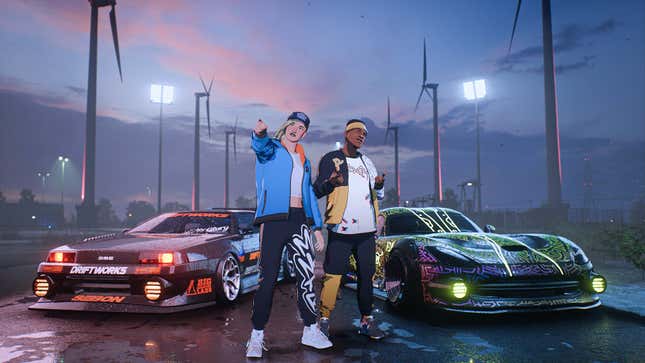 Xbox announced a new wave of subscription service Game Pass titles in a June 20 blog post, and it looks like late June and early July will be stocked with hidden gems.
Thank You, PS Plus, For Making My Backlog Even Bigger
You can play one of them, Need for Speed Unbound in just a few days, on June 22. That game reinvigorates EA's nearly 20-year-old racing series with its "colorful and unique art style" and "solid and responsive" driving, Kotaku staff writer Zack Zwiezen writes in his 2022 review.

"Regardless of if Unbound becomes a big hit or not," he says, "it's a damn fine game with some great ideas that make every race more exciting and every upgrade feel more valuable. And it looks rad the whole time, too."

Xbox Game Pass (end of) June 2023
In addition to speeding around in Unbound, this month, you can also expect to travel through books in the intriguing narrative adventure indie game The Bookwalker, and traverse a dark fairytale in another indie, Sweden-based studio Dimfrost's Bramble: The Mountain King.

Here's everything coming to Game Pass at the end of June:

The Bookwalker—"A narrative adventure in which you play as Etienne Quist, a writer-turned-thief with the ability to dive into books"; coming to console and PC day one, on June 22
Bramble: The Mountain King—"A grim adventure set in a world inspired by dark, Nordic fables. [...] Traverse a wondrous landscape and survive deadly encounters with Bramble's many hideous creatures"; available to play on cloud, console, and PC on June 27
F.I.S.T.: Forged In Shadow Torch—"Enjoy a seamless adventure, a combat experience that has been well received by players, and dive into the Dieselpunk world of F.I.S.T"; play it on cloud, Xbox Series X/S, or PC June 27
Story of Seasons: Friends of Mineral Town—"Care for crops, livestock, and more as your very own story of seasons unfold"; available on console and PC June 29
Xbox Game Pass July 2023
Then, at the start of July, you can expect…
Arcade Paradise—"Play, profit, and purchase new arcade machines, with over 35 to choose from, to build your very own Arcade Paradise"; arriving on console and PC July 3
Sword and Fairy: Together Forever—"Enter a realm that blends ancient mythology with traditional Asian aesthetics in Sword and Fairy"; coming to console and PC on July 5
What are you looking forward to playing on Game Pass this summer?