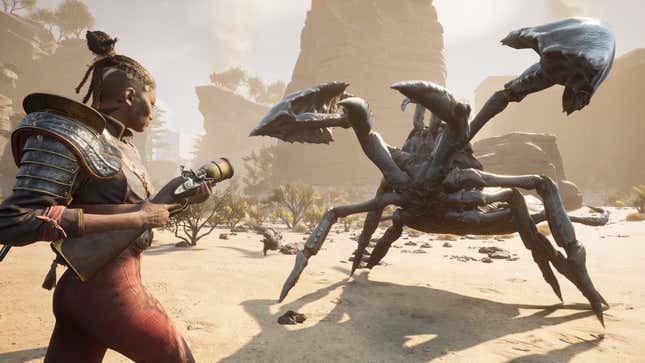 Soulslike fans, looking forward to getting their hands on Flintlock: The Siege of Dawn via Xbox Game Pass, will have to stare far further into the future. The next game from the developers of 2018's Ashen has now been delayed a full year from its previous "early 2023" release date, to an even more ambiguous "2024."

Hollow Knight: Silksong's New Gameplay Trailer Is Living Rent-Free In Our Brains
Announcing the news on Twitter, developers A44 explained things in what's pretty much the boilerplate text for such delays. "To make Flintlock the absolute best experience it can be at launch, we have made the decision to move the game's release date to 2024."
They continue in a thread to say all the familiar beats. "We've been working hard at crafting..."; "It's important to our whole team..."; "the most impressive and unforgettable game it can be." And who can blame them?
Such delays are, as Kotaku cannot repeat enough, a good thing. It sucks to have to wait an awful lot longer for a game you're excited to play, but it's always going to be better to play something—you know—finished, than rushed and buggy and unsatisfying. And can you imagine releasing an incomplete game to a scarier, more incessantly whiny crowd than Soulslike fans? (Love you.)
Ashen drew in its own controversy, when its 2018 release saw it as part of the first wave of games tied exclusively to the Epic Games Store. Five years later, the Epic Games Store is still an atrociously awful piece of software, but people are perhaps less overtly incandescent with ear-steaming rage when a developer takes the massive wads of cash on offer from Epic. (It's often the difference between getting to make another game, or breaking up and going their separate ways.) However, Flintlock is due to release simultaneously on Xbox Game Pass, PlayStations, Steam and the Epic Games Store.
Flintlock is a game about killing gods with the might of magic and gunpowder, an action-RPG set in the fantastical City of Dawn. While a new release date as ambiguous as "2024" isn't exactly something you can put in your diary, the footage we've already seen is very promising. Here's hoping we get to see the game next year.
Updated: 06/19/23, 09.33a.m. ET: The headline has been updated to remove an unintended ambiguity, so that's good.