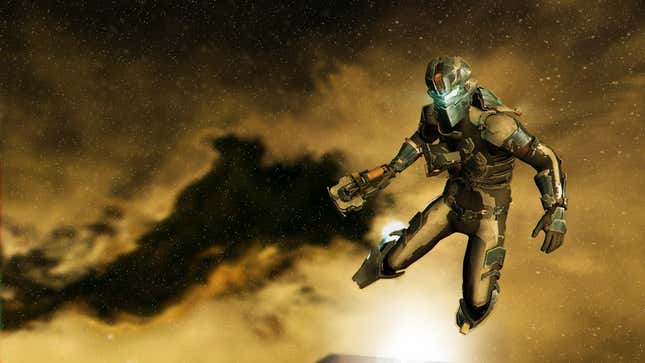 Xbox shared the latest games to join its subscription service Game Pass in a blog announcement earlier today, and it's looking pretty good. This early month update adds Guilty Gear Strive, plenty of Dead Space, and a few important updates to games you already have.

Thank You, PS Plus, For Making My Backlog Even Bigger
Elegant anime fighting game Guilty Gear Strive is already available to play, and you can download the updates for Fallout 76, No Man's Sky, and Halo Infinite Season 3 now. Among other little details, Fallout's Mutation Invasion update adds hourly Mutated Public Events you can play for awards, No Man's Sky Fractal Update introduces the Utopia Speeder starship and a number of new accessibility and challenge features, and Halo's Echoes Within update brings a new weapon and 100-tier battle pass.

Sea of Thieves will also have a Forts of Fortune event on March 16, offering fresh cosmetics and Pirate Legend Voyages, and will celebrate its 5th anniversary on March 20 with "an exclusive log-in bonus, time-limited celebration selfie wall and a supersized Community Weekend event," Xbox's blog says.

That already feels like a lot of video game, but wait! There's more. As this month cruises on, you can expect the following titles to make it to Game Pass:
Dead Space 2, Dead Space 3 (Cloud, March 9)
Valheim (Game Preview) (Console, March 14)
Sid Meier's Civilization VI (Cloud, Console, and PC, March 16)
Ni no Kuni II: Revenant Kingdom–The Prince's Edition (Console, PC, March 12)
Game Pass Ultimate subscribers can also, starting now, claim additional rewards for their games, including:
Corrupted Assault Rifle Bundle for Halo Infinite (requires Multiplayer to use, but includes "the exclusive 'Corrupted Hex' Assault Rifle Weapon Coating, four 2XP Boosts and four Challenge Swaps," says Xbox)
Sleepover Sleepwear Set for The Sims 4 (available through EA Play)
Champions Content Bundle for F1 22 (according to Xbox, this has "three My Team Icons, two drivable safety cars (available only in Time Trial Mode), 18,000 PitCoin, and more." Plus, "EA Play members can claim this Bundle now until April 3, 2023.")
EA Play Supercharge Pack for Madden NFL 23, available until March 9
While you're basking in all of Game Pass' March video game glory, remember to prepare yourself for some loss, too. Snow has to melt for flowers to bloom—these games are leaving Game Pass on March 15:
F1 2020 (Console) via EA Play
Goat Simulator (Cloud, Console, and PC)
Kentucky Route Zero (Cloud, Console, and PC)
Marvel's Guardians of the Galaxy (Cloud, Console, and PC)
Paradise Killer (Cloud, Console, and PC)
Undertale (Cloud, Console, and PC)
Young Souls (Cloud, Console, and PC)
Zero Escape: The Nonary Games (Cloud, Console, and PC)
I guess you wouldn't really consider Sid Meier's Civilization VI a flower, but whatever. I can romanticize an Xbox if I want to. That's my March goal—enjoy all these games as part of yours.