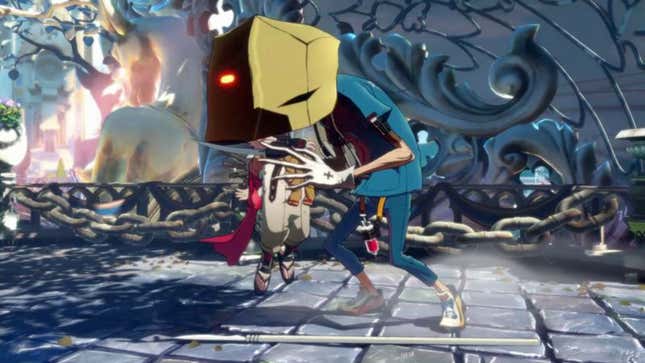 Guilty Gear Strive, Arc System Works' mega-popular 2D anime fighter, is under attack by hackers who've resurfaced a fatal exploit that seemingly causes the game to become unplayable for some players online.
The Top Ten Most Played Games On Steam Deck: March 2023 Edition
Like most competitive games, Guilty Gear Strive has a method for storing player data. This is called the "R-Code," and it houses all sorts of information, from your in-game handle to your win-lose record, among other stats. It's not the most stable, as players reported a couple years ago that R-Code failures would not allow the game to connect to online matches. And last December, hackers discovered they could change a player's R-Code details, such as a name, in the middle of a match to crash a game. It seems this exploit has reared its head again, as hackers find they can change not only a player's name, but also force a player to send in-game chat messages and create memory leak problems that slow a match to a crawl. This issue seems to mostly affect Strive's online modes, including arcade, dojo, training, and others.
As Strive pro Julian "Hotashi" Harris said in January 3 YouTube video about the exploit that it seems to occur at infrequent intervals "since whoever's doing this hacking thing [appears to be on] Eastern European" time. On top of sending unprompted messages and crashing games, Hotashi noted that the hack can "cause some sort of GPU or CPU leak," forcing Strive to slow down your computer down to an unplayable rate or, worse yet, "black screen of death your computer." Hotashi also said that while you're more likely to be targeted by this exploit if you're a prominent personality in the community, the issue isn't relegated to just streamers on PC. Console players have reportedly been affected as well. I guess no one's safe now.
Fighting game commentator Stephen "Sajam" Lyon said talk of the hack is an important discussion to have as Frosty Faustings, a well-known tournament circuit where Strive will appear, kicks off on February 2. So, players are having a hard time getting their training in while this exploit is running rampant.
"There's a feature that lets you follow people in Guilty Gear Strive," Sajam said. "And so, even if the person's not streaming their matches live, you'll know when they're online playing people and doing stuff. So, the way you have to practice is you have to play in offline mode."

Kotaku reached out to Arc System Works for comment but didn't receive a reply before publication. However, Zack "Shini" Tan, an Arc System Works producer said on Twitter that he's "back in the office" and looking at the reports.
Meanwhile, the R-Code exploit has gotten so bad that a Strive VTuber tournament scheduled to start on January 6 was postponed for now. Hopefully, Arc System Works can iron this out soon so folks can get back to gaming.