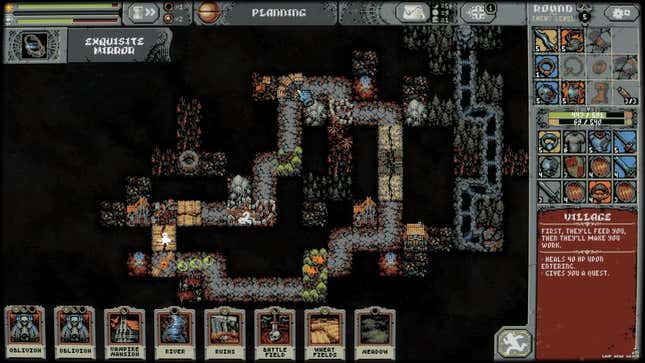 Xbox announced its first round of April Game Pass offerings in a blog post earlier today. I'll cut to the chase and tell you the best part—you can play one of the more intriguing titles, Loop Hero, right now.
Thank You, PS Plus, For Making My Backlog Even Bigger
The 2021 Best Indie contender is as much a roguelike as it is a deck builder, requiring players to stack magic cards to affect both randomly generated, infinite dungeons (through enemy cards, terrain cards, etc.) and to help retrieve upgrades for their hero. In his 2021 review, Senior Kotaku writer Ethan Gach calls it "extremely satisfying and full of interesting trade-offs."

Read More: "The 25 Best Games On Xbox Game Pass"

"The enemies you fight drop cards," he continues. "These are placed onto the map to add new locations as if you were playing a traditional city-builder, except instead of trying to create a thriving community the aim is to craft a dungeon that will maximize the upgrades and resources you can earn without outright killing you."

In 2023, the game's sulky, medieval-inspired pixel art and emotional undertow ("While Loop Hero is an apocalyptic game, it's as much about rebuilding in the face of depression and despair as it is surviving," Gach says) should appeal to both Vampire Survivors and Hades fans. You can play it through Game Pass now, on both console and PC.

Xbox Game Pass April 2023
In the first half of April, you'll also be able to play…
Goat Simulator, currently available on cloud, console, and PC
Iron Brigade—"Join The Mobile Trench Brigade and protect humanity from the evil Monovision menace in this Tower Defense Shooter," Xbox says in its blog, coming to cloud and console on April 6
Ghostwire: Tokyo—"master a powerful arsenal of abilities to unravel the dark truth," coming to cloud, console, and PC on April 12
NHL 23 via EA Play—"Experience the most connected Chel yet with the addition of women's players in Ultimate Team and cross-platform matchmaking," available on console for Game Pass Ultimate subscribers on April 13
Minecraft Legends—"Explore lush biomes to make alliances with new friends and familiar mobs, then face the piglins in epic battles," arriving to cloud, console, and PC on April 18
And as an extra bonus for U.S.-based Game Pass Ultimate members, Xbox is offering two months of Peacock Premium Plus, NBC's streaming service. You can watch Despicable Me and use your Xbox One as a coaster.