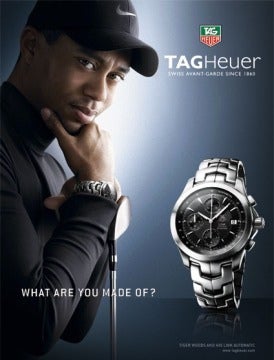 Well, would you? Best come up with an answer, because EA are looking at releasing such a game, announcing it during an address at the Goldman Sachs Technology and Internet Conference in San Francisco.
Speaking before an audience of very serious businessmen and women (the kind who'd no doubt be this game's intended audience), EA's Chief Operating Officer John Pleasants said:
This year, we're going to come out with a dedicated online Tiger product… that will be a leader in this move to become an online service company, as opposed to strictly a software shipment company.
This will be a new product, not just the PC version of the existing series, and Pleasants adds that its funding will be heavily reliant on microtransactions.
Like - and we're just wildly speculating here - $1.00 for a new Nike Tiger Woods golf shirt. $5.00 for a new Nike Tiger Woods driver. $2.00 for a new Tag Heuer Tiger Woods wristwatch. $0.50 for a mulligan. That sort of thing. Actually, that doesn't sound very wild at all. It sounds downright plausible.

EA Prepping Free-to-Play 'Tiger Woods' This Year? [GameCyte]