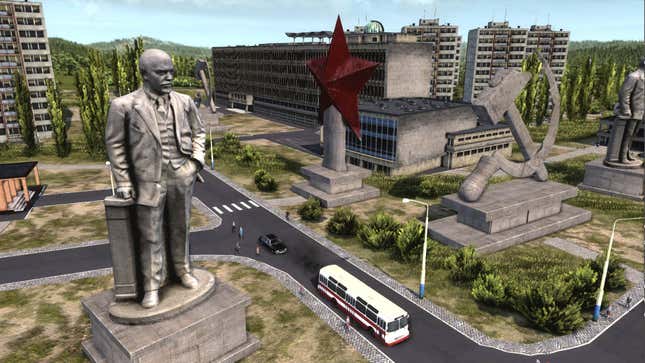 Last month the niche city-builder Workers & Resources: Soviet Republic had one hell of a time, after a fan went rogue and got the game's website and Steam store page taken down.

Top 10 Most-Played Steam Deck Games, October 2022 Edition
As we wrote on February 16 the fan, reportedly a lawyer, pulled every legal lever he could to damage the game and its developers:
In a post made by the game's developers, Slovakian studio 3Division, it's claimed that a player, "once a respected member of our community", has gone rogue and begun attacking the game's online presence, trying to get everything from trailers to the game's website taken down.

It's alleged that this player had written a guide on a way to play the game more realistically, and that while the developers had already been working on a game mode that did just that, they had agreed to add him to the game's credits as a goodwill gesture given his prominence in the community.

3Division say this player then, having been told they wouldn't added to the credits until after this new mode had been completed and released, "started to abuse the YouTube report system issuing copyright strikes to one of our most helpful influencers", and that as a result of this behaviour they withdrew their offer to officially thank him.
Through a series of DMCA claims he ended up getting the game's official site taken down, reported official YouTube videos belonging to developers 3Division and eventually got the game itself removed from Steam.
As of March 4, though, the game is back. In a short post made on the freshly-restored Steam page for Workers & Resources: Soviet Republic, the "dev team" say:
Dear Community and Players,

We are pleased to announce that our game is now back in the store!

We thank you for your patience, support and understanding as we navigated this tricky situation.

We want to apologize to those who were looking to purchase the game and were unable to. We realize that we underestimated the situation, and it quickly escalated to a point that posed a threat to our game. We greatly wish that this had not been the case.

But we are now back on track and you can fully enjoy the game! We are excited to get back fully to the development and put this matter behind us.
Cool! I played this game a while back and while it's not for everyone, anyone who hears "a city-builder that has a particular focus on how urban planning worked alongside the communist economies of Eastern Europe during the Cold War" and doesn't immediately turn to dust—which I admit is probably most sane people—should check it out, it does that one incredibly niche thing pretty well!