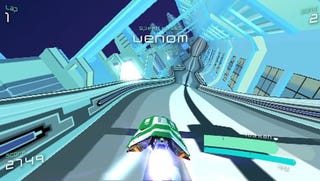 Sony may be planning at least one more PSP to PlayStation 2 port, if a Q1 European release list is accurate. Do you best not to get too excited about the prospect, please.
Last year's Wipeout Pulse may be the latest to jump from the PSP's wee screen to whatever the PlayStation 2 may be connected to, as a Sony Computer Entertainment Europe — more precisely, the Benelux region — release list pegs the port for a February release in the region.
None too surprising, as previously PSP-only titles like Ratchet & Clank: Size Matters have made the transition.
The release date list also schedules the cutesy PlayStation Network strategy game Fat Princess for March. We'd suggest not penciling that one in quite yet, as your region's release date my vary. For the full, rumored release list, read on.
Sony Q1 shows Wipeout Pulse coming to PS2 in February along with Flower. Fat Princess and SingStar Queen due March 2009 [VideoGamesBlogger]