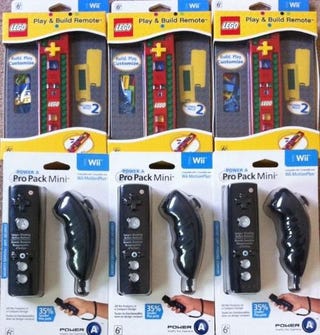 Remember that cool LEGO Play & Build Wii Remote we showed you earlier this month?
We've got three of them to give away this weekend and we're throwing in three ProPack Mini Wii MotionPlus controllers as well. Both come from Power A and both go to three different winners.
We'll be drawing the three names on Monday, November 1. To enter you just need to sign up for our newsletter. Sure, you can unsign up right afterwards, but no promises you won't be missing out on future contests.
Sign up for our newsletter to be entered in the contest here. If you're already signed up, you're already entered.