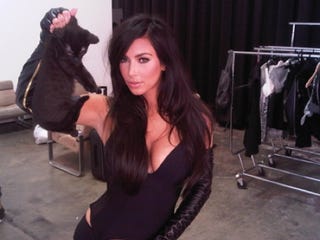 Kim Kardashian is famous for several reasons, none of which we fully understand. While she has used her ability to hold things for evil in the past (see above), she is now using it for good. Phew.
This Kim Kardashian Xbox 360 is part of Microsoft Australia's drive to auction off one-of-a-kind game consoles for a good cause, the David Peachey Foundation, which was created to improve conditions for young Aboriginal and Torres Strait Islander people. One hundred percent of the proceeds from the auction goes to the foundation.
What does Kim Kardashian have to say about all this? From her blog:
"Who wants to play Xbox with me!? Anyone!? LOL"
LOL.
Who Wants to Play XBox with Me!? [Kim Kardashian] [Pic]