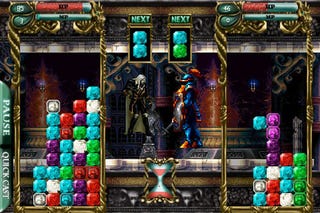 It's more than a miserable little pile of gems—it's Konami's new puzzle role-playing game for the iPhone, featuring some of the most memorable characters from Castlevania: Symphony of the Night. Yeah, we weren't expecting this either.
Castlevania Puzzle: Encore of the Night gives the star of Symphony of the Night, Alucard, a chance to dispatch his foes with a powerful new ability, matching and smashing brightly colored gems. On top of that Castlevania Puzzle lets iPhone and iPod touch gamers "play as or against characters directly from Castlevania: Symphony of the Night" as they puzzle their way through Dracula's castle.
Think Puzzle Quest, maybe with a dash of Puzzle Fighter or Puyo Puyo, combined with some of your favorite decade-old sprites.
Look for it in the iTunes App Store soon.