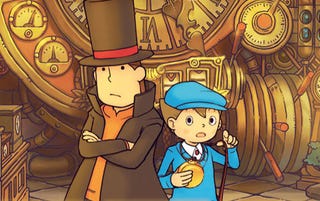 It's Labor Day weekend here in the United States and we at Kotaku will celebrate the three day weekend in the traditional way, with portable logic puzzles. Professor Layton and the Unwound Future, here I come.
In-between the time-twisting, brain-tickling fun, I may find some time to play Metroid: Other M, a Wii game that has yet to convince me of its charms. I'm only an hour or so in, but I found Team Ninja's take on Samus Aram surprisingly easy to put down.
I'll also be playing games of a very different sort with my weekend, taking in part in something that's video game related, but also not. Cryptic enough for you? More about my very unusual, possibly unbelievable Saturday at a future date.
Enough about our plans. What are you playing this weekend?